Composing the soundtrack for Hinterland
John Hardy was commissioned to write the score for Hinterland, the latest crime noir drama to hit our screens, which has been filmed in Welsh and English. He worked closely with two recent graduates from the Royal Welsh College of Music and Drama – Victoria Ashfield and Benjamin Talbott – to compose the score. Here, John tells us about the process.
I was first approached about creating a distinctive musical sound world for Hinterland back in 2012, and after long discussions with the producers, referencing music for various films, TV series, and a wide range of colours from around the globe, I decided it would be possible for me to make something special.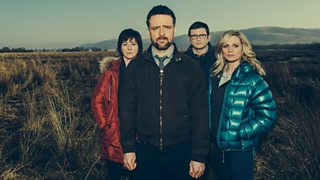 Hinterland. Image copyright: Fiction Factory/S4C/All3Media/Tinopolis
But I knew I would need help from someone trained in specialist recording techniques, who could handle sophisticated sound manipulation, and who had the right combination of qualities to support the creation of the score.
I knew the team would need to be able to work under pressure. Each episode is 96 minutes, the same length as the Hollywood movie Gravity – and we would have just over six months to finish the music for four films, each in several versions, in Welsh and English.
So I invited Benjamin Talbott and Victoria Ashfield to join me in the process of creating, from scratch, a sophisticated and tightly-composed soundtrack, and although it was tough, it was also thrilling and uplifting, and a truly happy period of creativity.
We agreed early on that we should try to record as much music as possible from real live sources, that microphones should be as close as possible to instruments and singers, to capture the naked, grainy, human quality of real sounds. We would try to find a musical world that could equal the extraordinary landscapes, characters and stories of west Wales which the series manages to conjure up - timeless, elemental and fast disappearing.
You can watch the
second episode
of Hinterland on Monday 13 January at 9.00pm on BBC One Wales.