The Stand - I'll Be There
This Sunday the charts could feature a song based on the oldest football chant still sung on terraces in the UK.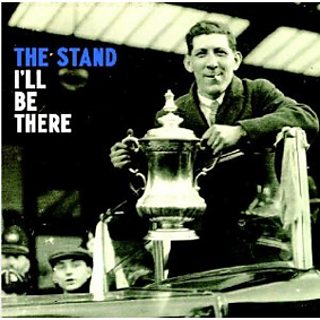 The Stand - I'll Be There
I'll Be There is a fund-raising single by The Stand, which is a supergroup of sorts which features the talents of London-based Welsh actor Jonathan Owen, Catatonia's Owen Powell, Super Furry Animals' Guto Pryce and Funeral For A Friend's Ryan Richards.
Richards replaced Stuart Cable in the line-up following the death of the former Stereophonics drummer in June.
I'll Be There is a reworking of a Cardiff City FC fan favourite, which has its origins in the General Strike of 1926. Proceeds from the single are going to a fund to erect a statue of City legend Fred Keenor at the ground.
I caught up with Jonathan Owen today to discuss the single, released yesterday.
Has the interest in the song surprised you at all?
"Yes it's been fantastic. The whole point was to get as much publicity to a great cause and it's job done. The trust has already raised £30,000 which is amazing. We've got a long way to go but we can do it."
Who do you think will enjoy it? Not just CCFC fans I presume!
"I think it's got a Celtic Punk feel. Owen and I spoke a lot about The Pogues and The Faces... just having a laugh with it and make it sing along. We kept it the same pace and key as the fans sing it and we were delighted to do a song that was specific to south Wales and Cardiff City fans. In these days of 'global culture' it's important we keep our heritage too."
When Stuart died, did you consider abandoning the project?
"We did. He was a great lad. Nothing sums him up better than when I asked him not only did he say 'yes' instantly but organised one of the best studios in the country for nothing. We've dedicated it too him and he is dearly missed."
How excited are you about this Sunday's chart rundown?
"Haha! Well it's not for another Sunday but to be honest I'll be happy if it charts. As long as it gets some positive publicity and raises a few bob I'll be a happy man."
What does the song mean to you personally?
"It means a lot. My grandfather as a boy went to Ninian Park on the '27 Cup Winning run and remember them singing it. The fact that we are doing it for a Cardiff City legend, a Somme veteran, who took them all the way that year is fantastic.
"The support we've had from the club but most off the fans has been incredible. Cardiff City fans get a bad rep sometimes but here they are digging deep in tough times to honour a local boy who was one of the greatest sportsmen of the 20th century. Amen the that."