Philanthropists' gift on show at National Museum Cardiff
Twelve important contemporary artworks that were gifted to National Museum Cardiff by art collectors Eric and Jean Cass will go on show this weekend.
Art collectors Eric and Jean Cass have spent the last 35 years amassing a personal collection of over 300 contemporary pieces - valued at £4 million - including ceramics, sculptures, prints, drawings and paintings. They housed the collection in their large modernist Surrey home, called Bleep.
The philanthropic couple made an early decision to donate their collection to galleries and museums in the UK, and the Contemporary Art Society was appointed to distribute the works.
Out of its 65 member museums across the UK, the arts charity selected seven institutions, all of which were outside London. The nominated galleries and museums were then invited to pitch for pieces in the Cass collection that would strengthen and enliven their existing collections.
The 12 works given to National Museum Cardiff include four lithographs by Catalan artist Joan Miró, a large gestural abstract painting Private Waltz, 1989, by British artist John Hoyland and an oil on canvas by Karel Appel called The City, which you can see on the far right in the picture below.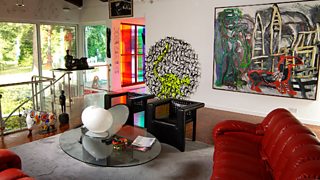 Back sitting room at Eric and Jean Cass' house Bleep. Photo: Douglas Atfield
Other works donated to the museum include ceramics and porcelain items from artists including Patrick Caulfield, Brigitte Deuge, Peter Hedegaard and and Bjørn Wiinblad.
The six additional museums across the UK to benefit from the Cass gift are the Gallery of Modern Art, Glasgow; Hepworth Wakefield; Leeds Art Gallery; the Scottish National Gallery of Modern Art in Edinburgh; The Royal Pavilion and Museums in Brighton; and Wolverhampton Art Gallery.
The Eric and Jean Cass Collection exhibition runs at National Museum Cardiff from Saturday 4 May until Sunday 21 July. For more information and to see what else is on across Wales, visit museumwales.ac.uk.