Play hopes to reveal little-known character of Wallace to masses
This year dozens of events are taking place to mark the centenary of the death of Wales' answer to Charles Darwin - Alfred Russel Wallace.
The Victorian naturalist was born in Wales and discovered the theory of evolution by natural selection independently from Darwin, yet never received the same widespread levels of acclaim.
As part of the celebrations the Neath theatre company Theatr na Nog has revived its production You Should Ask Wallace, which it is taking on an extensive tour from next month.
The title takes inspiration from an anecdote that, when Darwin was stumped for an answer why certain species were the way they were, the advice given to him was: "You should ask Wallace".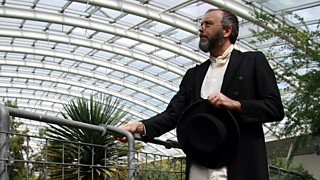 Ioan Hefin as Alfred Russel Wallace (photo: Geinor Styles)
The company has also created a show for children. The Amazing Adventures of Wallace and Bates has been touring schools since the beginning of May and continues into July.
I spoke to Theatr na Nog's artistic director Geinor Styles, who wrote You Should Ask Wallace, about why he is such an intriguing character despite being so often overlooked.
She said: "His curiosity as to why there are so many different varieties of species was ignited during his formative years in Usk and Neath, and would later help him find the answer to the 'mystery of all mysteries'.
"The play takes us through his life as a young boy growing up in Wales to embarking on epic adventures to the Amazon and Malay Archipelago where he discovers the theory of evolution.
"We never really knew Wallace and a lot of people hadn't heard of him until Bill Bailey did a programme on him recently. I think he's such a pleasing character because he had so much humility and it's a real pleasure to let people know who he was."
The show is a one-man piece starring Ioan Hefin as Wallace and is aimed at all ages. It will continue to tour Wales for the next few months but is also enjoying dates at the Edinburgh fringe, in Singapore and will even play to the Linnean Society in London at Christmastime.
Geinor said: "It has been a real honour to be asked there as the Linnean Society is where the joint paper outlining Darwin and Wallace's independent theories of evolution was read out in 1858.
"His is such a great story and people can't really believe it happened, especially in Wales.
"I think the way Ioan plays him is just mesmerising and makes a perfect role model for the Welsh curriculum because of his striving and getting knocked back but still carrying on.
"His determination is a great character trait especially for those who don't enjoy formal education because Wallace was a doer unlike Darwin."
Despite the fact that Wallace has been largely forgotten since his death and in many ways Darwin took all the credit for On The Origin Of Species, Geinor says they do not spend too much time examining this fact in the play.
"Wallace didn't dwell on it and we have spoken to his grandson who lives in Poole and he said it didn't bother Wallace himself so it doesn't feel right that we should find a drama in it that wasn't there.
"Wallace just appreciated the fact that he was recognised for his contribution by those in his field. That was enough for him."
Geinor hopes the play will inspire more people to go out and find out more about Wallace and his extraordinary contributions to biogeography and natural science.
The play is performed in both Welsh and English and is constantly adapted as they go. It also features a box of butterflies and beetles loaned by the National Museum of Wales.
You Should Ask Wallace will be performed at the Gwyn Hall in Neath on various dates throughout June. It returns to the Swansea Museum in October and then plays at the National Museum of Wales in November.
The evolutionary biologist Richard Dawkins will join the team for a special performance on the Quantocks in Somerset on August bank holiday.
For a full list of tour dates visit the Theatr na Nog website.