The death of the Hanging Judge
The date 18 April may not mean much to most people but on that spring day in 1689 Judge George Jeffreys, the famous 'Hanging Judge' of the 17th century, finally died, appropriately enough in the Tower of London.
Jeffreys was a Welshman, the sixth son of John and Margaret Jeffreys from Acton Hall on the outskirts of Wrexham. His childhood on the Acton Hall estates was quite privileged as his father, although supporting the forces of the king during the early stages of the English Civil War, managed to reconcile his beliefs and change sides once it was clear the Royalists had lost the war. He duly became High Sheriff of Denbighshire in 1655.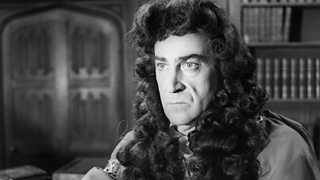 Patrick Troughton as Judge Jeffreys in the BBC drama Lorna Doone, 1963
George Jeffreys was educated, first, at Shrewsbury School, then St Paul's and, finally, Westminster Schools in London. He went up to Trinity College, Cambridge, but left after just one year, without taking his degree, to enter the Inner Temple and study law in 1663.
Married twice – reputedly for money – his second wife, Anne, was a woman with something of a temper. She was supposedly the only person Jeffreys was ever frightened of and a popular, scurrilous ballad of the time referred to the couple as 'St George and his Dragon'.
Jeffreys' legal career began in 1668 and by 1671 he was working as Common Sergeant of London. His rise 'through the ranks' was rapid and, despite his strongly held Protestant beliefs, he saw no problem in carrying out the duties of Solicitor General to the Catholic Duke of York, a man later to become King James II.
George Jeffreys was knighted in 1677 but really made his mark as one of the principal officials sitting in judgement on those accused as part of the Popish Plot. It was a time of some hysteria in Britain when everyone feared the plots and devilish deeds of the fiendish Roman Catholic minority in the country – hence the Popish Plot.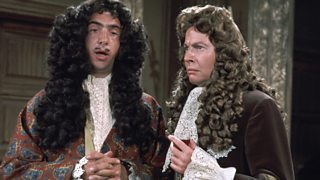 Charles II (James Villiers) and the Duke of York (John Westbrook) in The First Churchills
The arch perjurer Titus Oates appeared before Jeffreys and his court, easily and elegantly told his lies, and Judge Jeffreys was happy to condemn innocent men on the basis of this false evidence.
Jeffreys must have had his doubts, however, because in 1685 Oates himself was brought to justice. Jeffreys heard evidence and gleefully obtained the conviction of Titus Oates, a thoroughly unpleasant and obnoxious individual, for perjury. It was a bad tempered trial that often degenerated into a slanging match between Oates and Jeffreys, moments when the law was forgotten and the trading of insults became the norm.
Jeffreys would have dearly liked to impose the death sentence on Oates. It was not legally possible and, instead, he had to be content with sentencing his arch enemy to a series of whippings that beat Oates to within an inch of his life.
By 1685 Jeffreys was serving as the Lord Chief Justice, a post that carried considerable power. It was a position he thoroughly enjoyed. He had achieved a reputation for ruthlessness two years earlier when he condemned Algernon Sidney, one of the Rye House conspirators, to death.
Contrary to all legal practice of the time, which demanded two witnesses against an accused in any treason trial, Jeffreys decreed that in this case one would suffice. Sidney's writings on republicanism could act as the 'second witness'.
His behaviour, outside the courtroom, was now beginning to cause a few raised eyebrows. It was a time of hedonism, of excessive drinking and eating for most people of means, and George Jeffreys was no different from anyone else in this respect. Unfortunately, he was also a ruthless and iron-fisted judge. Many people noted his behaviour and marked him down for a reckoning at some stage in the future.
When James, Duke of York, became king, Jeffreys was appointed Lord Chancellor. He was also elevated to the peerage as Baron Jeffreys of Wem. And then came the Bloody Assizes.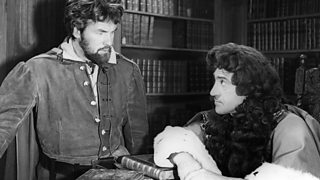 Judge Jeffreys (Patrick Troughton) and John Ridd (Bill Travers) in Lorna Doone, 1963
In 1685 the Duke of Monmouth rebelled against his uncle, the new Catholic King James II. Monmouth's rabble army was easily defeated at the Battle of Sedgemoor and George Jeffreys was sent to the Western Counties to dispense justice on the rebels. According to popular legend, he condemned 700 men to death. In fact, the figure was probably closer to 150.
There is no doubt that Jeffreys was harsh in his judgements – he did not earn the epithet 'the Hanging Judge' for nothing. However, the law of the land demanded the death penalty in all cases of treason and it was the prerogative of the king to grant mercy. The fact that James chose not to show clemency has been conveniently forgotten by history.
Perhaps the most glaring instance of a miscarriage of justice was in the case of Alice Liske who Jeffreys had condemned to death for sheltering supposed rebels. She had not been part of the rebellion and the men she shielded had not been captured or condemned. Yet Jeffreys was adamant – she was guilty.
In the wake of the bloodless revolution of 1688 when James fled and William and Mary succeeded to the throne, George Jeffreys was left in a quandary. He did not know what to do and, in the end, remained in London until William's troops were at the city walls. Then he decided to follow James into exile.
Unfortunately for him, he got no further than a tavern at Wapping where, despite his disguise as a sailor, a previous victim of his legal judgements identified him.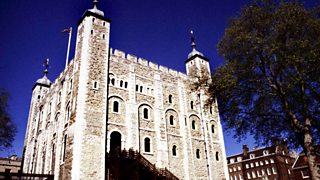 The Tower of London
A mob quickly gathered at the door of the inn and a terrified George Jeffreys was taken into custody – as much to keep him safe as to punish him. Incarcerated in the Tower of London, he died on 18 April 1689 from a rare kidney disease that had deviled him all his adult life. 
George Jeffreys was certainly not an attractive figure. A man with a vile temper – possibly caused by the pain of his long-standing illness – he was also more than capable of engaging in personal vendettas against people who had annoyed or displeased him. Nobody doubted his ability as a man of law but he was self-serving and quite prepared to put his own beliefs behind him if he felt they might hinder his career.
George Jeffreys, the Hanging Judge, remains one of those Welshmen people would rather forget about. Yet he did his job, as he saw it, for king and country. It was just unfortunate that he died with the blood of so many innocent people on his hands.