Women's writing celebrated at the xx minifest
Writing by and for women will be celebrated this weekend as the xx minifest of women's writing 2012 takes place in Cardiff.
This inaugural festival will take residence at Chapter Arts Centre this Saturday, 27 October. It aims to publicise the range and diversity of writing by women from Wales in the English language, and encourages both men and women to attend and take part.
This one day minifest will act as a "taster session", as a more extensive literary programme is already being planned for 2013.
I put a few questions about the festival to Susie Wild, one of the co-organisers of the xx minifest. Wild is a writer, an editor at Parthian Books and she also organises the Cardiff Literary Salon, and will be holding a special edition of the literary gathering for the festival.
How did the festival come about?
"The festival is organised by Penny Thomas, publisher at Honno and fiction editor at Seren; Amy Wack, poetry editor at Seren; Carole Burns, senior lecturer in creative writing at Cardiff Metropolitan University and me.
"It was Penny's idea. She was working  for Honno, the independent Welsh women's press, at the time and planning celebrations for this, their 25th birthday year. Penny wanted an event that celebrated all the wonderful women they had published over the years, and that would showcase writing by and for women from Wales and the world. We got talking, and then enlisted the very capable and enthusiastic help of Amy and Carole."
Why the name xx?
"xx refers to the female sex chromosomes, men are xy. When looking for a name we wanted something that wasn't too girlie, we wanted our festival to appeal to men and women across all writing modes and genres, because we are trying to close the divide, not widen it. xx was a working title that stuck; I did science at A-level and uni, so that's probably why it cropped up!"
What events do you think are likely to be the highlights of the day?
 "Every event is a highlight for me. I am looking forward to hearing professor Katie Gramich introduce the festival in our first session as we will be discussing The State of the Art and what it means to be a female writer today, the pros and the cons.
"The xx line-up includes some great new local voices as well as the Booker-longlisted novelist Nikita Lalwani, award-winning poet Rhian Edwards, Dylan Thomas prize-winner Rachel Trezise and Sunday Times shortlisted short-story writer Roshi Fernando."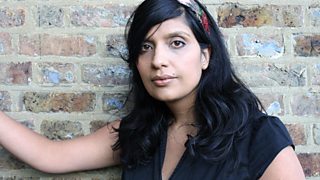 Author Nikita Lalwani. Photo courtesy of Nishant Lalwani
How do you respond to people who may question an all-female event?
"Unfortunately, while Hilary Mantel wins her second Booker and women certainly do have a voice in the literary scene, there are still figures that show that women are under-represented in magazines and newspapers that review and cover writing and impact on readership.
"An American organisation called Vida, Women in Literary Arts, does frequent surveys of magazines in both the UK and US. Men are often three to four times as likely to be writing reviews; and the books reviewed are often three or four times more likely to be written by men.
"One way to address this is not by just complaining, but by doing something about it - by bringing more attention to the excellent writing that is out there by women and encouraging men and women to come and hear these writers at xx, and expand their reading choices."
Can you tell us about plans for next year's more extensive festival?
"We hope that it will be like this year's, but bigger! The inaugural year of any festival is really a taster session, to see if audience interest is there and to prove to funders and sponsors that you have what it takes to continue year on year.
"Next year we are hoping to run for more than one day, and have an exciting big name or two to draw people in, more involved discussions on different aspects of women's writing and a programme of workshops.
"There is so much we've been unable to include this year, so we would be considering sessions on different genres, non fiction, theatre, radio and screen writing among others.
"Perhaps we'll set a couple of male critics a reading challenge. We certainly aim to have a couple of male guests talking on women's books, but mostly we want to highlight great writing that often gets overlooked, and to have a good literary time."
The xx minifest begins at 2.30pm in the afternoon with the introductory session by Cardiff University's Katie Gramich. Author Nikita Lalwani, who was born in Rajasthan and raised in Cardiff, will read from her new novel The Village from 3pm.
Up and coming poets Rhian Edwards, Emily Hinshelwood and Anna Lewis will each perform their works in an afternoon poetry event.
Honno celebrate their 25th anniversary year with a reception at the minifest - another of Wild's highlights - plus there will be a book fair featuring works by Welsh publishers and all those writers taking part in the festival.
Wild's all-female edition of the Cardiff Literary Salon will include readings and discussion from Roshi Fernando and Rachel Trezise, plus new literary talents Sarah Coles, Alexandra Claire and Hail! The Planes front woman Holly Müller.
Tickets to individual events cost £4, or a day ticket is available for £15. For further information visit xxwales.wordpress.com and the Chapter Arts Centre website.