The Barry railway scrapyard
In the late 1960s and throughout the 1970s and 80s, one of the most popular tourist attractions in south Wales was, not the golden beaches or rugged mountains of the country, but a pile of slowly mouldering railway locomotives that sat silently in their scrap yard, dominating the route from Barry to nearby Barry Island.
The locomotives were old steam engines, nearly 300 of them in all, that were no longer required by British Rail and had been bought by Barry scrap merchant Dai Woodham.
He had initially purchased them with a view to breaking them up and then selling on the valuable steel and other materials. History records other uses for these newly redundant steam locomotives.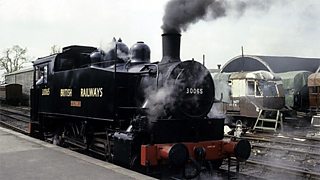 A steam train, May 1989
After the Second World War, in line with the nationalisation of so much heavy industry, the great railway companies of Britain were amalgamated into British Rail.
Even at this early stage there were plans to convert the railway network to diesel and electric trains but, in a country that was still recovering from the effects of the war, these proposals were shelved and the decision was taken to remain with steam as the main motive power.
By 1955, however, with more and more people buying cars and the road network improving yearly, British Rail was losing both money and passengers. That year BR came up with their Modernisation Plan, a scheme that advocated replacing steam locos with diesel and electric ones.
The initial idea was to replace only shunting and branch line locomotives but by 1958 things had become so bad that a decision was taken to replace the entire steam fleet of railway engines.
It was a bold move, one that was furiously opposed in many quarters, and it meant that well over 15,000 steam locomotives were suddenly redundant.
Enter the firm of Woodham Brothers. The company had begun life in 1892, scrap merchants who bought old rope and wood from ships in Barry Dock and then sold it on. By 1955 they were dealing mainly in scrap metal, recycling steel and other materials for use by the British steel industry.
British Rail's decision to scrap their steam fleet of locomotives presented Woodham's, run now by the founder's son Dai Woodham, with a great business opportunity. Woodham's weren't the only scrap merchants to buy up British Rail locomotives and rolling stock but they were one of the biggest – and the most efficient.
Dai Woodham even went so far as to spend a week or two at Swindon, learning how to break up heavy railway engines and by 1965 the company had bought over 60 locomotives. Three years later the number had increased to 297.
However, what Dai Woodham soon found was that it was easier – and more profitable – to scrap the wagons and rolling stock than the locos. And that meant that while his company prospered, the long lines of steam engines sat there in the yard, waiting for breaking up at some stage in the future.
Railway enthusiasts quickly realised what a goldmine there was in Barry and flocked to the area in their thousands. And it was not just railway buffs. So many people, children of the 1930s and 40s, men and women who had enjoyed trips on the railway system, whether for business or pleasure, came to stare and spend a nostalgic moment or two just staring at the once proud steam locomotives.
However, the wiping away of the steam railway fleet by British Rail soon created a new phenomenon: the railway preservation enthusiast.
From the late 1960s, men and women who were fascinated by steam railways began to band themselves together into preservation societies, their aim being to acquire – and, if possible, run – steam locomotives for the entertainment of the public. And Dai Woodham's yard in Barry was a great place to start.
There were still 271 locomotives at Barry, plenty for people to choose from. For a long while the lines of steam trains remained in situ as the standard procedure was for societies to choose an engine, put down a deposit and then go away to raise funds.
Slowly, however, the locomotives began to disappear. To begin with they were hauled away by British Rail diesels but this practice soon ended and preservation societies were forced to add the cost of transport by road to their already heavy expenses.
When, in the 1980s, Dai Woodham announced his impending retirement, it spawned a huge last effort to clear out the remaining steam locomotives from the Barry yard. The last one duly left in January 1990, bound for the West Somerset Railway.
In all, 213 steam engines from Woodham's Barry yard were rescued from scrapping and many were restored. Not all of them are running but many are.
The Barry Railway scrapyard remains a fascinating little moment in the history of transport. Acquiring the locomotives may not have begun as an altruistic means of saving part of our heritage, but it certainly ended up that way.