Ryan Davies, Welsh entertainer
There are many people who can lay claim to the title of Wales' best loved entertainer but, surely, no-one has more right to that title than the mercurial Ryan Davies.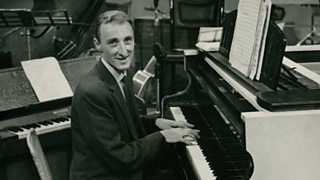 Ryan Davies
Between 1971 and 1973, with his fame and success already assured in his native Wales, Davies and his comedy partner Ronnie Williams performed for three BBC One television series. Ryan and Ronnie were star names, not just in Wales but across the whole of the UK, earning for themselves the, probably, unwanted but nevertheless accurate description of the Welsh Eric and Ernie.
Ryan Davies was born in Glanamman on 22 January 1937. After a two year National Service stint in the RAF he went to Bangor Normal College, followed by the Central School of Speech and Drama in London. Then followed a period of five years working as a primary school teacher in Croydon.
Acting and entertainment were in Davies' blood, however, and in 1965 he left the school to become a full-time professional actor. It was not long before his wonderful singing voice and comic talent were finding him work across the country. He also wrote songs and scripts and was soon, after appearing at large scale events such as the 1966 National Eisteddfod, being regarded as an emerging talent.
Davies' big break came when he teamed up with Cefneithin-born Ronnie Williams. As a double act they made Welsh language TV shows and performed live at many Welsh venues. As a combination of comedy, singing and light drama, it could not be beaten. When their act was seen by Billy Cotton Jnr, then head of BBC light entertainment, they were commissioned for an English language version of Ryan And Ronnie on BBC One.
The shows gave them national exposure, something that was soon being eagerly anticipated by viewers across Britain. For a long time people had been asking why England, Ireland and Scotland had produced great comedians but Wales had not done the same. Ryan And Ronnie certainly provided the answer to that conundrum.
The comedy show was well received, three separate series being broadcast in the early 1970s. One of the highlights of each episode was Davies' portrayal of a "typical" Welsh housewife in a sketch entitled Our House. Davies played his part of Mother in drag while Williams appeared as the father.
After several years of huge success the duo split in 1975, supposedly due to Williams' poor health. Davies, who had always pursued a complementary solo career, continued to work in cabaret, TV and film. He was always something of a workaholic, never seeming to slow down or take a break.
In 1972 he had appeared as Second Voice - even though he played the part as a mute - in the big screen adaptation of Dylan Thomas' Under Milk Wood, alongside Richard Burton, Elizabeth Taylor and Peter O'Toole. It was a misguided adaptation but Davies' portrayal was one of the few highlights of the film.
For many, however, Ryan Davies is best remembered for his appearances on the legendary Poems And Pints series of programmes, an unlikely but hugely successful combination of poetry and song that was sometimes felt to sum up Welsh entertainment and culture in the early 1970s. Davies' recitations along with the poetry of Harri Webb were the highlights of the show. Poems And Pints, incidentally, gave early air time to a young singer/songwriter from Glynneath, Max Boyce.
In 1977 Davies was in Buffalo in New York State, visiting friends. At a barbecue in his honour he suffered a serious asthma attack and, despite being rushed to hospital, died of a heart attack on 22 April. He was just 40 years old.
Davies' death came as a dreadful shock to family and friends, and to the thousands of fans who loved his music and comic ability.
His body was brought back to Wales and he was buried in the graveyard at Hen Bethel Church, just above Glanamman. He is commemorated by a bust that holds a place of honour in the foyer of the BBC Wales headquarters in Llandaff.
He left a wife, Irene, and two children but, significantly, a legacy of comic genius that is still spoken about throughout Wales. Nobody who ever saw Ryan Davies perform can ever forget the experience.