Dr Merlin Pryce and the discovery of penicillin
Most people remember Sir Alexander Fleming as the man who, on 3 September 1928, discovered penicillin. Yet the part played in the discovery by his friend and colleague Merlin Pryce, a Welshman from the Merthyr area, should never be underestimated.
Indeed, there are many who say that it was Pryce who actually discovered penicillin, not Fleming at all.
Merlin Pryce had been employed as research assistant to Fleming but in February 1928 moved on to work in other areas. According to Mrs Hilda Jarman, Pryce's sister, Fleming went on holiday that summer and Merlin, calling in to say hello on what should have been Fleming's first day back at work, noticed blue-green mould on one of the petri dishes in the laboratory.
Lab assistants should have cleared the dishes away but, for some reason, they had been left untouched.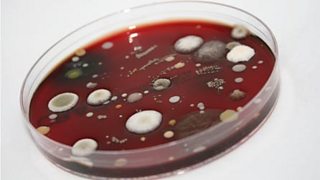 Mould growing on a petri dish
Merlin Pryce drew the attention of Fleming to the petri dish, noting that no bacteria surrounded the mould. Something, as yet unknown, in the dead cells that lay apart from the mould had caused the bacteria to die. The rest, as they say, is history.

But one thing is sure - if Merlin Pryce had not noticed the mould and drawn it to the attention of Alexander Fleming penicillin would not have been discovered for several years and, quite possibly, would not have been available for the treatment of wounded soldiers during World War Two.
While it is clear that the discovery of penicillin owes much to the work of other men - notably Florey and Chain who were responsible for developing the antibiotic and bringing penicillin to the hospital ward - Merlin Pryce, from the very beginning, played down his part in the affair. He was a modest man who insisted that credit for the discovery should rest solely with Fleming.
Born at Troed-y-Rhiw in Merthyr, Merlin Pryce was educated at Pontypridd Boys Grammar School before moving on to the Welsh National School of Medicine when he was just 17 years old. He then left Wales to study at St Mary's Hospital in Paddington, London and in 1927 was appointed to a Junior Research Scholarship under Fleming.
In the years to come Merlin Pryce enjoyed a successful and distinguished career in medicine, remaining devoted to St Mary's all his life. He became, after the war, first Reader and then Chair of Pathology at the hospital. He retained his affection for and relationship with Fleming right to the end, always maintaining that Sir Alexander was rightly honoured as the man who discovered penicillin.
Only twice did he ever break that stance - once, many years later, at an after dinner speech to the West Kent Pharmaceutical Society and, for a second time, in an aside to Fleming's widow. After a joint interview with himself and Lady Fleming by André Maurois, Fleming's first biographer, she hissed at Pryce, "Anybody would think you discovered the mould." Pryce's response was a simple statement that summed up everything: "But I did."
At this distance - and without written evidence - it is hard to deduce quite why Merlin Pryce should actively seek to play down his part in the discovery. He was, undoubtedly, a modest man and his devotion to St Mary's (as well as his relationship with Fleming) are perhaps indicators of the reasons for his stance. He would do nothing that would damage the reputation of either.
Merlin Pryce died on 8 February 1976, his reputation as a doctor and as a teacher unblemished. He could have been remembered for much, much more - if he had had the inclination to tell the world about the part he played in one of the most significant discoveries of the 20th century.
Feel free to comment! If you want to have your say, on this or any other BBC blog, you will need to sign in to your BBC iD account. If you don't have a BBC iD account, you can register here - it'll allow you to contribute to a range of BBC sites and services using a single login.
Need some assistance? Read about BBC iD, or get some help with registering.