The fairytale castles of William Burges
No-one who has ever driven past Cardiff on the M4 can have failed to spot the fairytale castle that sits high up on the hillside to the north of the motorway, surrounded by trees and bushes and looking for all the world as if it had just fallen out of Cinderella's most imaginative dream.
This is Castell Coch. While it lies on the site of an earlier medieval fortress, the modern Castell Coch is a folly and, in its present incarnation, was built as recently as the final years of the 19th century. It was the brainchild of one of the most original architects and designers of the Victorian Age, William Burges.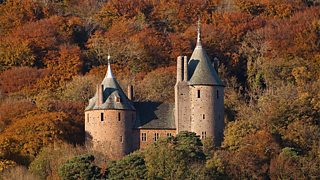 Castell Coch (photo: Arwyn Harris)
Born in London on 2 December 1827, Burges came from a wealthy family that could afford to indulge his fantasies. When, later on, he inherited his father's money it gave him the opportunity to really develop his interests in pseudo medieval Gothic and pre-Raphaelite styles of design.
He studied engineering and trained at King's College in London where he was a contemporary of Dante Gabriel Rossetti. In due course he moved on to gain experience in several distinguished design studios.
In particular, he worked, along with Matthew Wyatt, on the Medieval Court in the Great Exhibition and in 1863 was awarded his first major commission, St Fin Barre's Cathedral in Cork.
As a young man, Burges travelled widely before, in 1856, establishing his own practice in London. He designed not just buildings, but also jewellery, furniture and fittings.
A follower of John Ruskin, he believed in ornamentation – one of the reasons that almost every flat surface in Cardiff Castle and Castell Coch seems to be covered with relief carvings or motifs of birds, animals and historical events.
In a short but explosive career – he was only 53 when he died – Burges designed churches, castles and houses. At one late stage in his career he was engaged to redesign the interior of St Paul's Cathedral but his work was not to the liking of the church and in 1877 he was sacked from the project and the work shelved.
Burges will always be remembered, however, for the two pieces of Cardiff fantasy that still remain and still retain the power to shock the unwary visitor.
William Burges first met the 3rd Marquess of Bute, the great Cardiff landowner and controller of Cardiff Docks, in 1865. It was a significant meeting for both men.
Bute was then regarded as the richest individual in Britain, thanks largely to the success of Cardiff Docks, and between them the two men decided to revamp and reconstruct both Cardiff Castle and Castell Coch. The castles and the land had been in the Bute family for years and Cardiff Castle, in particular, had been allowed to degenerate.
Bute had been converted to Catholicism and loved the ornamentation on many Catholic churches. He was also a medieval enthusiast. It was a meeting of like minds and, Burges quickly realised, this was the chance for him to put into practice all the grand plans and dreams he had harboured for years. The Marquess of Bute let him have his head.
Work began on Cardiff Castle in 1866. It took many years and both Bute and Burges were long dead when it finally came to an end in 1928. Castell Coch's redevelopment began in 1872 and was only finished in 1891.
Although Burges lived and maintained his base in London, he did run the Bute Workshops as a training ground for future craftsmen. Amongst others, the sculptor Goscombe John – who was later to create to statue of Lord Ninian that now stands in Cathays Park – learned his trade in the Bute workshops.
Cardiff Castle and Castell Coch remain a wonder of opulence and ornate design. Turrets and towers soar towards the Heavens while, inside the buildings, woodwork and plaster seem almost to come alive before your eyes.
They are both phenomenal pieces of architecture and design but it is amazing to think that, for over 100 years, they were largely ignored by artists and historians.
Only with a rebirth of interest in Victorian architecture in the 1970s – thanks, somewhat, to the enthusiasm of poet laureate John Betjeman - did people finally realise what they had in these two great buildings!
William Burges did not live to see either of his two dream projects achieve fruition. He was on a tour of the works in Cardiff in April 1881 when he was caught in a rain squall. He caught a chill but was determined to go home to London. He was dead within three weeks, breathing his last on 20 April 1881.
Interestingly, almost the last visitors to see this remarkable man were the writer Oscar Wilde and his friend, the painter James Whistler.
William Burges was an innovator and a man of vision. Cardiff Castle and Castell Coch remain majestic achievements, a true tribute to an incredible man.