Everybody in Wales knows the story of Aneurin Bevan, the miner's son who became Member of Parliament for Ebbw Vale and the man who, in the first Labour government after World War Two, effectively created the National Health Service.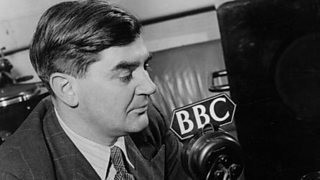 Rt.Hon Aneurin Bevan, Minister of Health taken in 1942
In a recent poll to find the top 100 Welsh heroes Nye, as he was commonly known, came out in first place. Clearly he holds a position of major esteem in the minds of the Welsh people.
Nye Bevan's story is too well known to demand yet another full telling. But 6 July 2010 marks the 50th anniversary of his death and it would be wrong to let the date pass without marking it in some way.
His death truly was "a death out of time." He was just 62 years old and, in the opinion of many, at the height of his powers. Diagnosed with terminal cancer in 1959, Nye knew he had little time left to him but this fervent left-winger, a man who believed, above all, in the rights of the individual working man and woman still had the courage and strength to take on the role of Deputy Leader of the Labour Party.
Bevan's career was full of controversy. He was born at Tredegar in 1897, one of 10 children, his father a coal miner. Nye hated school and, by his own account, did badly there, leaving as soon as he could in 1910.
He was self-educated, using the local Workmen's Library to study politics and economics in the evenings and at weekends. He became a miner and, in due course, a trade union activist with the Fed, the Miners Federation of South Wales.
Nye Bevan knew the power of the mine owners only too well, being refused employment on several occasions because of his supposedly "revolutionary" views. Despite, or perhaps because, of this in 1926 he became a paid Union official. He was one of the miners' leaders in south Wales during the General Strike and in 1928 he was elected as Labour MP for Ebbw Vale.
He was a harsh critic of anyone he suspected of not supporting the working classes and this applied to his own party as well as the Conservatives. He was even expelled from the Labour Party for a brief period in 1939 because he would not "toe the Party line." Opposed to Churchill's wartime Coalition Government, his criticism was so virulent that Churchill once called him "a squalid nuisance".
It was as Minister of Health in Attlee's post-war Labour Government that Nye achieved his real moment of glory by creating Britain's first National Health Service. It was not done without considerable opposition from the British Medical Association. When asked how he had finally managed to quell the opposition of the wealthy consultants Nye famously responded: "I stuffed their mouths with gold".
What he had done, in order to create the new system, was to allow the consultants to continue with their private practices whilst working for the new Health Service at the same time. It could be argued that this gift or loophole undermined the whole system and, in later years, led to serious problems. But considering the opposition and the urgent need to offer free medical services to the nation it is hard to know what else Bevan could have done.
Appointed Minister of Labour in 1951, Nye soon resigned in protest at the introduction of prescription charges - he was always a man of principle. He contested the Labour leadership after Attlee resigned but lost out to the more moderate Hugh Gaitskell. Nye kept his left-wing views to the end, his supporters (Bevanites as they were known) being such a scourge that in 1953 he and several of his group had the party whip withdrawn.
There were barely 12 months between diagnosis of cancer and his death in July 1960. He fought the disease with the same dogged determination he had used to cure his childhood speech impediment. But it was no use, the disease spread through his body and within a few short months he was dead. His early demise almost certainly deprived the Labour Party of a vibrant and dynamic leader and, possibly, the country of a future Prime Minister.
Nye Bevan remains one of the most charismatic figures ever to grace the halls of Westminster, truly one of the most remarkable Welshmen of the 20th century.
Feel free to comment! If you want to have your say, on this or any other BBC blog, you will need to sign in to your BBC iD account. If you don't have a BBC iD account, you can register here - it'll allow you to contribute to a range of BBC sites and services using a single login.
Need some assistance? Read about BBC iD, or get some help with registering.