Crunch 2011 at Hay-on-Wye
The line-up for next month's Crunch Festival (18-20 November) has been announced, with an eclectic range of artists joining the Hay event.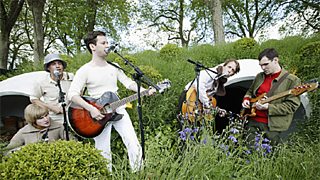 British Sea Power
Some of the music highlights include Abi, Hamilton and Yan of British Sea Power playing some of the band's favourites and rarities in a semi-acoustic style; 65daysofstatic's Paul Wolinski playing as Polinski with "a heady science-fiction inspired soundscape of beats and noise"; Mara Carlyle; Franz Nicolay, formerly of The Hold Steady; Emily Barker & The Red Clay Halo and Beaty Heart.
A full line-up can be seen on the official website.
Produced by the Institute of Art and Ideas (IAI) and held annually in Hay-on-Wye, Crunch "brings together leading artists, philosophers, commentators and art world professionals from the principal to the subversive in a dissection and celebration of the arts in contemporary society."
There are debates, talks, workshops, exhibitions and live performances all available over the weekend.
A spokeswoman for IAI said: "From a Welsh perspective, an interesting highlight is Siôn Russell Jones, who will be supporting Mara Carlyle. He is a rising Cardiff singer-songwriter on Jonathan Powell's label.
"Arts Council Wales chair Dai Smith and artistic director of the National Theatre Wales John McGrath are both coming to Crunch; among other things they'll be doing a talk titled The Dragon's Heart - 'From the Gorsedd of Bards to the National Eisteddfod, Wales has a history of grassroots participation. Smith and Director of National Theatre Wales John McGrath ask whether the rest of the UK can learn from this paradigm.'"