New work celebrates the movement of pregnant women
Not so long ago in history a heavily pregnant woman was a rare sight, as she was usually ordered into her "confinement" some weeks before the bump became enormous.
Now a new dance piece is aiming to challenge conventional images of pregnancy by featuring two women dancers as they near the final months of their gestation.
Gravida is choreographed by the Serbian-born artist Aleksandra Jones, who lives in Cardiff with her Welsh husband and herself was recently pregnant with her third child.
It features professional dancers Tanja Råman and Aberystwyth-born Lara Ward who are 32 weeks and 28 weeks pregnant respectively and will be on at Chapter Arts Centre in Cardiff at 6pm next Tuesday and Wednesday (28 and 29 May).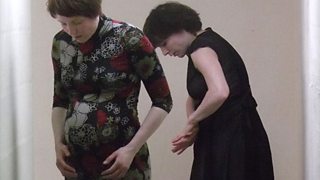 Tanja Råman and Lara Ward in Gravida. Photo: L M H C
Aleksandra told me that the dance piece was born out of a 2012 pilot project funded by the Arts Council of Wales and called Women In Pregnancy and offers a new way at looking at the effect pregnancy has on movement, gravity and even a woman's career and creativity.
"It is such a special time in a woman's life and yet, for a dancer or performer, a pregnancy can mean their career is finished," she said.
"I wanted the movement to be authentic and to explore Tanja and Lara's own unique insights into pregnancy and their memories and dreams.
"This piece is the story of all of us and is very moving - I think the audience will really engage and identify with it. I think some people may even be in tears!"
One would forgive Tanja and Lara for wanting to put their feet up as their due dates loom, but Aleksandra says they have never complained about being tired during the rehearsal process.
"They are professionals and I think the piece is really important to them. Obviously the choreography has changed because the pace of their dancing has slowed a little as they have got further along in their pregnancies but they have created their own personal performance space together."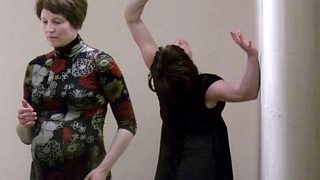 Tanja Råman and Lara Ward rehearse Gravida. Photo: L M H C
Gravida explores how the law of gravity changes during pregnancy for both mother and child and will even involve an energetic tango for two (or four as Aleksandra points out) at one point.
"It is full of passion and humour and draws on the women's own experiences of what it feels like to be a woman and to be pregnant and see your body changing."
Aleksandra hopes families and mothers with babies will be inspired to come and see the show.
Tanja, who is originally from Finland but is now also based in Cardiff, added: "As pregnancy has such a huge impact on the female dancer and her career development, particularly in the freelance dance sector, it is still a major issue with many dancers leaving it very late to have children, if choosing to have families at all.
"It is therefore wonderful to be part of creating this work with the real focus on the pregnant dancing body – such a rare treat."
After each production of Gravida, there will be a chance for the audience to chat to the dancers and ask them questions and give them feedback on the performance.
The next stage of the Women In Pregnancy project will use the arts to explore how we can each be more present in our family lives, something that is often hard to juggle with demanding careers and financial pressures.
It is being led by The Republic of the Imagination, an international network of artists with a base in Cardiff, which is directed by Aleksandra.
Last year it brought together pregnant women and professional dancers to create a performance called The Pregnant Bolero.