Storytelling festival returns for second year
The ancient art of storytelling has captivated listeners young and old for generations.
As the winter nights draw in, a motley crew of performers, puppeteers, singers and storytellers will be heading to Aberystwyth once more to celebrate this oral tradition and invite the public into its warm and welcoming circle of entertainment.
After the success of last year's inaugural festival, organisers decided to bring the event back "to warm the cockles of chill winter hearts".
Peter Stevenson, a children's book illustrator, storyteller and musician, is behind the event.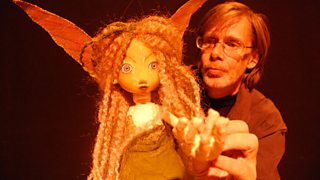 Peter Stevenson. Photo: Matthew Cowan
He runs the Magical Illuminarium, a lantern projector which harks back to the entertainment offered by travelling showmen in the advent of cinema. His projector will be at the festival accompanying stories with a range of glass slides featuring his own illustrations.
He told me: "I was really surprised by how popular the festival was last year. I think the great thing about storytelling is it has always been for everybody.
"People sometimes erroneously think it's just for children but through the ages the best stories have been those that appeal to all ages.
"This year I've expanded the festival sideways to really explore the visual arts side but we still have a lot of top storytellers who have chosen to take part.
"For example, Michael Harvey, who is in my view the best storyteller in Wales at the moment, is coming along to tell some Breton tales.
"We've also got Tuup, whom people think of as an elder in the storytelling tradition in Britain. He is returning after last year and this time is accompanied by the sitar player Sheema Mukherjee."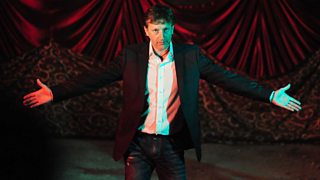 Storyteller Michael Harvey. Image courtesy of Michael Harvey
This year the festival's theme is Stories and the Visual Arts and Peter has specially commissioned three pieces of new work.
The first is by Mauritian artist Josian Fauzou, who is based in Aberystwyth, which invites the audience on a voyage in the Indian Ocean with stories from his native land written by local authors.
Mikyoung Jun Pearce and Rebecca Woodford-Smith have also produced an hour long film especially for the festival that will be shown in The Box, while Peter himself has devised a new show called Cabinet of Curiosities which features The Dancing Bear and the Doll.
Illustration from Peter Stevenson's The Dancing Bear and the Doll, courtesy of the artist
He told me: "It borrows from old Welsh stories about King Arthur and St Dwynwen struggling to understand their place in a world where history is told by museum mannequins and the past is sanitised in fluffy furry toys."
Peter will convey the stories with the help of his illuminarium and about 300 illustrations he has created for the event.
There will also be an exhibition of old fairy-tale films and modern contemporary artists' films about fairy tales as well as a photographic exhibition by Zoe Childerley featuring various sites where stories have historically been told in Wales.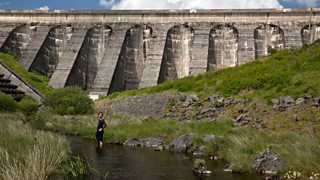 Photograph from Zoe Childerley's Petrified in Storyland exhibition, courtesy of the artist
The festival takes place at the Aberystwyth Arts Centre from Friday 30 November until Sunday 2 December. Full details can be found on the Aberystwyth Storytelling Festival website.
Festival tickets are £25 and day tickets are available: Friday £8 (children £6); Saturday £12; Sunday £12 (£6). To book contact the ticket office on 01970 623232 or visit aber.ac.uk/artscentre.