The Dairy Decline - Why Is It Happening?
Over the past fifteen years the number of dairy farmers in Wales has halved - on average three farmers leave the industry every month. Some farmers have succeeded in getting contracts to supply some of the major supermarkets, guaranteeing that the price they get for their milk covers the cost of production. But how can others survive, when the price they get may not be enough to cover their costs?
Hill farmer Gareth Wyn Jones interviewed the National Farmers' Union former chief economist, Dr Séan Rickard, for his series Gareth Wyn Jones - Milk Man:
There isn't a future for every dairy farmer.
Over the last 60 years we have seen the number of dairy farmers decline - and as some dairy farmers go out of business, of course, it creates opportunities for some others to expand and become more efficient. If this industry is going to continue to make a real contribution to the British economy - to the quality of life in the countryside - farmers have to get out of bed and strive every day to do what they do, cheaper than they did the day before. They just have to keep that mind-set going.
Now for some farmers, that tends to be getting larger. There are economies of scale in dairy farming, and therefore if you have a larger herd, you tend to be able to produce at a cheaper price.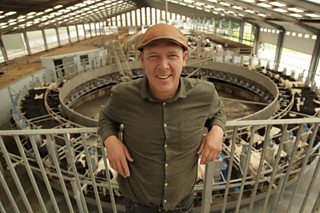 Gareth Wyn Jones at a modern milking parlour
I don't like the expression "factory farms". Let's call it what it is - industrialisation. Industrialisation means efficiency, industrialisation means productivity, industrialisation means cheaper food.
The reason our standard of living is better than our fathers' and their fathers before, is because of something called industrialisation. Why does anyone imagine one of our biggest manufacturing industries for the production of food can stand aside from industrialisation?
Of course we have to take the benefits of science and technology and management into farming - to benefit both the farmer, to benefit the countryside, and to benefit the consumer.
Episode 2: Monday, February 13 at 8.30pm on BBC One Wales.
Watch Episode 1 on BBC iPlayer now.