Conservative peer and businessman Michael Heseltine turns 80 today.
Although his father was a Welsh colonel, Heseltine's family was descended from farmers, dockers and coal workers. His maternal grandfather, James Pridmore, had founded West Glamorgan Collieries in the early 20th century.
Born in Swansea on 21 March 1933, Michael Ray Dibdin Heseltine grew up at 1 Uplands Crescent (now number five) and was a keen angler in Brynmill Park.
Former Deputy Prime Minister, Lord Michael Heseltine, at home in Wales.
He attended Shrewsbury School before studying Philosophy, Politics and Economics at Pembroke College, Oxford, and became president of the Oxford Union.
After graduating Heseltine co-founded a property empire. He was conscripted in 1959, and became a Second Lieutenant in the Welsh Guards, but left National Service the same year to stand as a Conservative candidate in Gower, a safe Labour seat.
He failed to win in Gower, and again in 1964 in Coventry North, losing both times to Labour. With his political career on hold, Heseltine built a housing estate in Kent and founded the magazine publishing company Haymarket.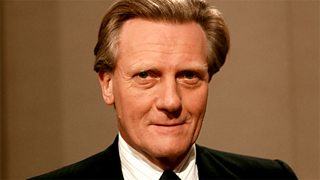 Michael Heseltine in 1988
In their early days the businesses were far from profitable, and Heseltine was beset by debts until 1967, when a stake in Haymarket was sold to the British Printing Company. The company grew a portfolio of profitable magazines, and Heseltine, who still owned a large shareholding, became a multi-millionaire.
Despite his early political setbacks, Heseltine was elected to parliament in 1966, winning the safe Conservative seat of Tavistock. After the constituency was abolished he was elected to represent Henley from 1974 until his retirement in 2001.
Heseltine was a charismatic, combative politician, and from a young age harboured ambition of leading the Conservative Party and becoming prime minister. He became a government minister after the 1970 general election, and served as Shadow Industry Secretary during the Conservatives' period in opposition from 1974-79.
A particularly notorious incident took place during a parliamentary debate in 1976 during a Commons debate on Labour government proposals to nationalise the shipbuilding and aerospace industries. Labour won the vote and sang the Red Flag in celebration; incensed, Heseltine took the ceremonial mace from the table in front of the Speaker, and brandished it at his Labour opponents. The incident led to widespread ridicule in the media, and Heseltine acquired the enduring nickname Tarzan.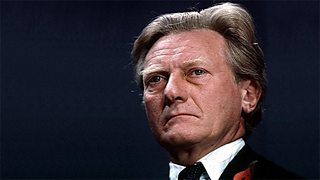 Michael Heseltine in 1991
In 1979 Heseltine joined Margaret Thatcher's cabinet as Secretary of State for the Environment, and from 1983-86 was Secretary of State for Defence. His cabinet career ended in 1986 over the Westland affair: unable to agree with Thatcher over the future of Britain's last remaining helicopter manufacturer, Heseltine stormed out of a cabinet meeting and announced his resignation to surprised reporters outside Downing Street.
Heseltine remained a vocal critic of Thatcher, and in 1990 challenged her for the Conservative Party leadership. He was unsuccessful but the fragmentation of support for Thatcher within the cabinet led to her eventual resignation.
Heseltine returned to the cabinet in a series of posts under John Major, becoming Secretary of State for the Environment, President of the Board of Trade, First Secretary of State and Deputy Prime Minister. This period marked his transition from political firebrand to Tory grandee.
After the Conservatives' defeat in 1997 he declined to stand again for the party leadership. He was made a Companion of Honour in Major's resignation honours list, and upon his retirement from the Commons in 2001 was given a life peerage as Baron Heseltine of Thenford, Northamptonshire.
Despite a low political profile he remained politically active. His maiden speech in the upper house didn't take place until 2011, when he gave details of an audit of the UK's industrial performance he has been asked to lead by the Treasury.
In 2008 Michael Heseltine took part in the BBC Wales programme Coming Home, in which he explored his Welsh family history.
Former deputy Prime Minister, Lord Michael Heseltine, returns to his Welsh roots.