Royal weddings - the Welsh connections
Over the past few months the media hype has slowly been building for the royal wedding, an event taking place in London this Friday, 29 April 2011.
This particular wedding remains very much an English affair but here in Wales we, too, have had our involvement in royal weddings of the past. And very often they have been events or occasions with more than a few political overtones.
Although not technically a 'royal' affair Gerald de Windsor was at the forefront of things back in the 12th century. In 1105 this Norman knight was appointed Royal Steward and Constable of Pembroke Castle.
Gerald was the man who held control of all the King's lands in west Wales and, in Pembroke Castle, commanded the most powerful military fortress in the country. By marrying Princess Nest, the daughter of Rhys ap Tewdwr, the most important Welsh prince south of Gwynedd, Gerald brought the region to an uneasy but ultimately rewarding truce.
Almost exactly a century later another royal marriage brought a degree of peace and stability to Wales. By 1199 Llewelyn Fawr had become the acknowledged ruler of Gwynedd, in effect the northern part and most powerful part of the country. In various campaigns he drove the Normans back beyond Offa's Dyke and made great inroads into Powys. He then turned his attention the southern part of Wales.
Llewelyn was so successful that in 1204 the English king, John, was forced to acknowledge him as Lord of Gwynedd. To seal the arrangement John gave Joan, his illegitimate daughter, to Llewelyn in marriage. The union did not end the various disputes but it was, by all accounts - and against all the odds - a loving relationship.
Joan proved to be a more than useful ambassador for Llewelyn, dealing frankly and openly with her father and, later, her half brother Henry III on his behalf. When Joan died in 1237 she was buried at Llewelyn's manor of Llanfaes in Ynys Mon and he even built a monastery to commemorate her life.
Perhaps the most significant Welsh connection with royal weddings came in 1501 when Arthur, the Prince of Wales and son of Henry VII, was married to the Spanish princess Katherine of Aragon. Born in 1486, Arthur was undersized and sickly but he was heir to the throne and everyone, king and courtiers alike, had a vested interest in keeping him alive and well. A return to the chaos of the Wars of the Roses was not to be countenanced.
Henry - of Welsh descent and born in Pembroke Castle - deliberately named his son after the legendary King Arthur who, many supposed, was himself a Welsh chieftain or cavalry leader. After a 'proxy' marriage to Katherine in 1499, the real wedding took place two years later when Arthur was 15 years old. He and his new bride then left London for Ludlow where Arthur was serving as head of the Council of Wales and the Marches.
And that was when British history changed. The young Prince of Wales and his princess fell dangerously ill, their fevers being attributed to the unhealthy climate of the Welsh border regions. Katherine soon recovered but Arthur, always an underdeveloped and wasting boy, grew steadily worse and died.
He was succeeded as heir - and as Prince of Wales - by his far more robust younger brother Henry. Rather than renegotiate the alliance and valuable dowry that Katherine had brought from her native Spain, Henry VII simply re-married her to the new heir.
When, years later, Henry VIII, as he had become, decided to divorce Katherine in favour of the younger Anne Boleyn, the whole divorce issue rested on one simple question: had Katherine and Arthur actually consummated their marriage?
The Pope had only approved the marriage between Henry and Katherine on the understanding that Katherine and her first husband, Henry's brother, had not been intimate during the brief three or four months of their relationship. It was a complicated affair that took several long months to sort out but it eventually led to the break with Rome, the English Reformation and the establishment of the Anglican Church - and all because of the weddings of two princes of Wales.
Another Prince of Wales whose marriage caused great interest for the general public was that of Victoria's son, Edward VII. He was a great rake and philanderer, including women such as Lillie Langtry and Alice Keppel in his list of acquaintances. Soon after the death of his father, Prince Albert, Edward was married to the Danish Princess Alexandra. How would Edward and Alexandra - Bertie and Alix as they were affectionately known - cope with the restrictions of marriage, people asked.
As far as Bertie was concerned it hardly affected him and he carried on much as before. Alix did better than anyone could have ever imagined. She came from the Danish Royal family, a family that was impoverished and almost penniless. Indeed, her father was so poor that he could not even afford to come to the wedding, which took place at St George's Chapel in Windsor in 1863. But Alix took to her new role, enjoying the trappings of royalty and turning a blind eye to most, if not all, of her husband's indiscretions.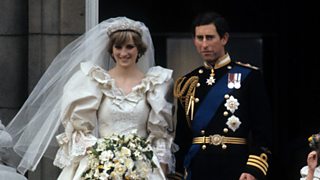 Prince Charles and Princess Diana, on the balcony of Buckingham Palace after their wedding ceremony on 29 July 1981.
When Prince Charles married Lady Diana Spencer on 29 July 1981, she became the Princess of Wales. He had been invested as Prince in 1969, an event marked by more than a little nationalist unrest but, with marriage to Diana, new found popularity seemed to fall over the royal couple and they subsequently made many very successful visits to Wales.
Divorce and disclosures about their private lives unfortunately smashed away much of this popularity and now people await the new royal wedding, hoping it will bring happiness and enjoyment, not just to the royal couple but to all the population of Britain.
Follow the live coverage of the marriage of Prince William and Catherine Middleton on Friday 29 April on BBC Radio Wales or BBC One Wales.
Find out more about Welsh Royalty on the BBC Wales History website.