Newport ready for third comedy festival
An eclectic mix of talent will descend on Newport next week as the annual Comedy Port festival gets underway.
Headliner Al Murray is already sold out, but for those wanting to sample fresh talent, there will be a collection of new comics straight from the Edinburgh Festival, as well as local acts and musical comedy.
Events will be centred on The Riverfront Theatre and at a pop-up venue at URBAN in John Frost Square and run from next Monday 8 October until Saturday 13 October.
The festival will be launched by Tin Shed Theatre, who have transformed the URBAN venue - an empty shop - into a submarine, which will be known as the Launchpad throughout the week. The closing party will also take place in this deep sea setting.
Tin Shed consists of three performance artists - Justin Cliffe, Antonio Rimola and Georgina Harris - and they have devised a programme showcasing local comedy talent. But thirsty punters throughout the festival will be able to seek succour in the submarine, where a bar will be manned by seafarers and underwater characters.
Also appearing are The Silky Pair, comedy duo Kathryn Bond and Lorna Shaw, who have been likened to the hilarious Flight of the Conchords.
Edinburgh Comedy Award winning stand-up comic and poet Tim Key will present his show Masterslut, while there are also performances from Highwayman Guy D'amnfine, award-winning magician Paul Dabek and Merthyr Tydfil's very own Dangerous Ryan.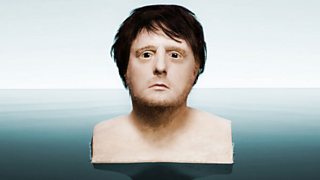 Tim Key promotional image
Other highlights include One Day In The Life Of Lloyd Owen Langford, a show about one Welshman's difficulty navigating his way through the world, and Dan Mitchell's Beak, the tale of the world's first stand-up seagull.
Bridget Christie, who has proved popular at Edinburgh in recent years, will also present War Donkey in her first performance in Newport while there will be a script-held performance of Moist as part of the On The Edge series of plays.
Organisers promise a whole host of family events with a comedy club for kids and screenings of various funnies at the Launchpad.
It's the third time Comedy Port has been held in Newport and the team behind it are hoping to build on the success of the past two years.
Full Comedy Port listings and tickets are available at newport.gov.uk/comedyport. A Comedy Port Fringe Launch-pass allows access to all 7 Launchpad shows at URBAN for £15.