Simon Rolfe took these strange cloud pictures in the skies over Sychdyn in Flintshire recently and e-mailed me to find out more.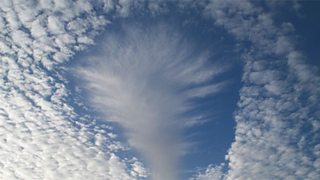 These clouds are actually known as Fallstreak Holes and I've actually blogged about them before.
If you spot any unusual cloud or weather formations in the sky, please get in touch.
You can send your pics to me here at wales.nature@bbc.co.uk along with any questions you may have and I'll do my best to answer them here in the blog.