Week In Week Out: Making waves in Cardiff Bay
In the eyes of the world's media every country has a 'story'. It can be an event, an individual or an issue that will attract the main focus of the moment. Revolution in the Ukraine, a military coup in Thailand, kidnapped school girls in Nigeria or the withdrawal of troops from Afghanistan. Closer to home, it is the vote on independence in Scotland and the rise of UKIP.
In Wales – right up at the top of the agenda - is the state of our NHS.
No, not the lead story on a world bulletin perhaps, but it is without doubt the big issue here.
In one way or another it has featured in almost every series of Week In Week Out in recent years and now it does so again.
Why?
Because the doubts, the questions and the complaints persist – and in the year running up to a general election the performance and management of the NHS, under a Labour government here, will come under increasing media scrutiny from outside Wales as well as within.
Of course, babies are born, fractures are healed and many thousands of people have reasons to be grateful for the treatment they receive in our hospitals. Surveys regularly show that support for the NHS in Wales is as high – if not higher – than anywhere else in the UK.
But still.
This time we examine the effects of waiting lists on some patients – and their families – who wonder why are people dying before they receive the treatment that could save their lives?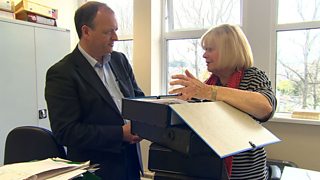 Tim Rogers with Ann Clwyd MP
Last year, in south Wales, 29 people on waiting lists for heart surgery died - 12 more than the previous year. And Welsh Government figures show that across the country more than 37,000 operations were cancelled for non-clinical reasons – including lack of staff and beds – between April 2013 and March 2014.
It is one reason why Ann Clwyd MP is making waves in Cardiff Bay. Her campaign to raise awareness of what she sees as serious failings has touched a nerve from within her own party. She will stand down at the next election but she shows us the boxes full of complaints from patients and their families across the country. She says she is receiving, on average, three letters a day.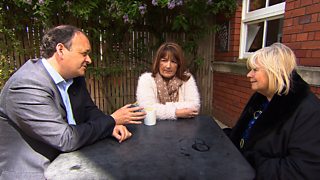 Tim Rogers with Jacqui Parsons and Ann Clwyd MP
Her critics from within the Labour party in Wales say that her campaign has been motivated by her dispute with the University Hospital of Wales in Cardiff where she claims her late husband did not receive adequate nursing care. It a dispute that is mired in counter-claim and a continuing investigation. Ann Clwyd says that it is a dispute that has nothing whatever to do with her concern that the system in Wales is falling behind England in key areas. But is it?
And what are we to make of this argument? At the heart of this debate is an important and persistent question. Despite what the surveys say, is public confidence being eroded? Are the waiting lists being reduced quickly enough and can we expect to see parity with England in the areas where we have been falling behind any time soon? Yes and no say the critics. No and yes says the Government. Statistics – where they are available - are being traded and the arguments will become more vocal in the months ahead.
One thing is for sure, this is the story and there is bound to be more to come.
You can watch Week In Week Out Tuesday 3 June at 10.35pm on BBC One Wales.