John Nash, Welsh architect
John Nash was perhaps the most famous architect of the 18th and early 19th centuries. He is remembered now for his work on Buckingham Palace, Regent's Park and Regent Street in London and, in particular, for the redesigning of the Royal Pavilion in Brighton.
Yet this clever but clearly troubled troubled man came from a solid Welsh background and many fine buildings that he designed or built can still be seen in west Wales.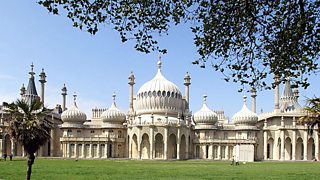 Royal Pavilion, Brighton (photo: Dfwillow, under Creative Commons licence)
Nash was born on 18 January 1752 but his place of birth is not clear. Some say he was born in London, others in Cardigan where his family had many connections. His father was a millwright but he died around about 1758 and so had little influence on his son's development and career.
After early education, Nash was trained by the architect Sir Robert Taylor and worked as a surveyor and builder in the city of London. He was successful and in 1777 established his own business.
In 1775 he had married Jane Elizabeth Kerr but within a few years the marriage was in difficulties. Jane had run up huge debts, in particular a milliners bill for over £300.
In desperation, Nash sent her to a cousin, Ann Morgan, in Aberavon, hoping that the quiet Welsh seaside spot would "calm her down." In fact, all it did was to spark a relationship between Jane and a local man by the name of Charles Charles.
Despite the affair, in June 1779 Jane returned to London to attempt a reconciliation with her husband. Her extravagant ways had not changed, however, and Nash once more sent his wife to Wales, this time to another cousin, Thomas Edwards of Neath.
Two years later, the affair with Charles not having ended, Nash had enough. He brought an action for divorce against Jane on the grounds of adultery. The case was heard at Hereford and Charles was fined and later died, not having the money to pay the fine, in prison. Nash and his wife duly went their separate ways.
When Nash inherited £1,000 from an uncle he decided to risk it on the building of houses in Great Russell Street and Bloomsbury Square. The buildings failed to rent out and Nash was declared bankrupt in 1783. He decided to move back to Wales, establishing an office in Carmarthen and starting a contractors business.
Together with Samuel Simon Saxon he re-roofed the town church in Carmarthen for a fee of 600 guineas and began once more to develop his career as an architect. He designed the prisons at Carmarthen, Cardigan and Hereford, then mapped out plans to solve severe structural problems with St David's Cathedral.
Over the next few years Nash became influenced by Thomas Johnes, for whom he designed an octagonal library at Hafod Uchdryd, and Sir Uvedale Price. For the latter he built the castellated villa of Castle House in Aberystwyth. Under their guidance and influence Nash became fascinated with the picturesque, so much so that he eventually became the style's leading proponent.
He designed at least a dozen lovely medium sized country houses around Wales, the finest example probably being Llanerchaeron in the Ceredigion town of Ciliau Aeron. And then he decided to chance his arm, once more, in London.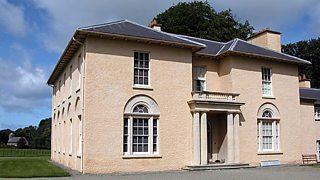 Llanacheron House
In 1797 he returned to the city and the following year married Mary Ann Bradley. Slowly, he built his practice, designing a number of Gothic castles around the country, places such as Luscombe Castle in Devon and Caerahays Castle in Cornwall. One of his finest achievements was the design of Blaise Hamlet near Bristol: nine asymmetrical cottages set around a traditional village green, the summit of picturesque perfection.
A friend of Charles James Fox, Nash was a dedicated Whig supporter and soon came under the patronage of the Prince Regent, later King George IV. In 1806 he was appointed Surveyor General of Woods, Forests and Parks and from 1810 onwards worked solely for the prince. In 1813 he was appointed official architect to the Office of Works, advising parliamentary commissions on things such as new church buildings.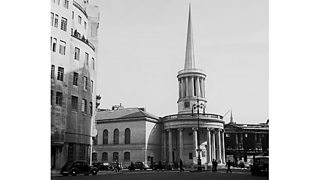 All Souls Church, London,1952
It was during these hedonistic years that Nash laid out both Regent's Park and Regent Street. He also found time to design two theatres in London's Haymarket, one of them being the Theatre Royal. Buckingham Palace was largely his design - although not the imposing facade that looks down the Mall. He was proud to call King George his friend.
Nash was not immune to scandal, however, despite his considerable royal patronage. A scurrilous cartoon once appeared in a London paper, showing the king embracing Nash's half dressed wife. It was typical of the satirical publications of the age and while most people disregarded the drawing there were those who nodded sagely and decided, among themselves, exactly how Nash had managed to rise so far and so fast.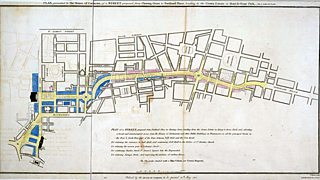 John Nash's plans for Regent Street
When George IV died in 1830 there was an immediate reaction against the extravagance of his reign. Buckingham Palace, for example, had already cost thousands - millions in today's terms - and it was nowhere near completion. Nash, now without his royal protector, was suddenly vulnerable.
He received no more commissions and, perhaps more importantly, was denied the knighthood that many thought would be coming his way. In high dudgeon, he retired to his house on the Isle of Wight where a few years later, on 13 May 1835, he died.
Nash left debts of over £15,000. His wife was forced to sell his books, a number of paintings by men such as Turner and, eventually, the house itself. John Nash had led a fascinating but undoubtedly troubled life - a genius but, like so many clever and driven men, someone who never managed to find real happiness.