Rainfall: Facts and figures
I've been busy today looking through more rainfall figures from the Met Office and there's no change. April was still wet! Overall, it was the wettest April on record across the UK.

Central, southern and south-east England along with east and north-east England were the wettest parts of the country with around two and a half times the average rainfall. Meanwhile Northern Ireland and western Scotland were the only areas to be drier than average.

Lake Vyrnwy dam by Ron Kyte
In Wales, 160.8mm of rain fell, almost twice the April average of 85.9mm. It was the 3rd wettest April in 100 years of records dating back to 1910! Wetter Aprils were in 1913 and 1920 with 167mm and 194mm of rain respectively.
Brecknockshire was the wettest county with 198.6mm of rain, more than twice the April average.
While Anglesey had the least rain with 91.5mm but that is still 43% more rainfall than normal.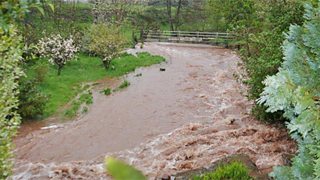 The Dulas at Hay-on Wye on 29 April by Mike Barrell
New April rainfall records were set at Tredegar, St. Athan, Hawarden and Rhyl with 231mm, 156mm, 131mm and 95mm respectively. Double the monthly average or more.
Tredegar was also one of the wettest places in the UK. While RAF Valley on Anglesey was one of the driest with 65mm of rain.
We've enjoyed a break from the rain today with some sunshine but the weather remains very changeable. More rain is forecast in the next 24 hours. At the moment, it looks like the heaviest rain will be in the south and the
Met Office has issued a warning
.