You may have heard the old saying 'Ne'er cast a clout till May be out'. It's been in use since at least the 18th century. A clout is an old word for a piece of clothing.
Some people think 'May' refers to the month but others take it to mean the May flower or hawthorn. The tree flowers in late April or early May.
In other words, the old saying means don't take your warm clothes off until the May blossom is out because cold weather can return during the spring months which is what is happening at the moment.
Hawthorn blossom by Oakwoodlot on Flickr: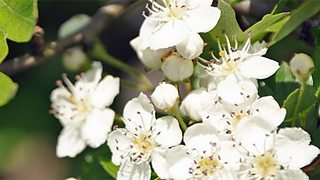 The air over has come from the Arctic bringing a drop in temperature. Ann Ankers from Bwlchgwyn near Wrexham said she had sleet this morning with a temperature of only 2 Celsius.
Bwlchgwyn is 1090 feet above sea level but it goes to show how cold the air is. Some frost is likely over the next few nights, especially in the countryside and rural areas. Of course, cold snaps are not uncommon in May.
Thankfully, it should become a little warmer over the weekend and next week but in the meantime keep your vest and scarf handy and watch out for jack frost.
Derek