Artist hosts convention on stargazing ahead of Venice Biennale
This summer artist Bedwyr Williams has the honour of representing Wales at the 55th Venice Biennale.
His project will be jointly curated by Mostyn and Oriel Davies and is supported by the Arts Council of Wales.
Although the content of his exhibition The Starry Messenger remains top secret for the moment, he says that it will have something key in common with the work he is producing for an ideas convention at the St Fagans National History Museum in March.
The event will take place upstairs in the museum's recreated working men's institute building and involves a series of talks, performances and film screenings exploring the relationship between stargazing and the home.
Bedwyr, who is based in Caernarfon, Gwynedd, hopes The Amateur Convention will whet people's appetites for his Venice project ahead of the summer.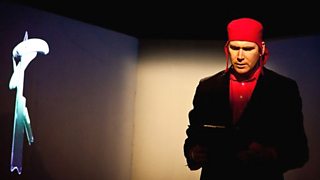 Bedwyr Williams during a performance of Stepping Razor. Image courtesy of Wysing Arts
He told me: "I wanted to have what is usually called a symposium but a convention sounded better.
"One of the themes we are exploring is amateur astronomy and I thought it would be good to get people who work in that field and who are really passionate about it as a hobby to come along and speak – although it is not just aimed at people who are into stargazing.
"Unlike other hobbies like hunting and shooting which are essentially selfish, stargazing is such a noble thing – these people look into the sky and discover comets.
"I find it fascinating that on the one hand you can have somebody like Jeremy Clarkson doing it and at the other end of the scale there are these quiet men and women who are out there staring at the stars. There's something really serene and beautiful about it."
Various guests are taking part in the informal event, from a physics teacher who used to ask his pupils to shut their eyes while he described the universe to them, to a man who in the 1960s used to watch the stars through a telescope he had fashioned out of baked bean cans.
Contributors include Dr Haley Gomez from Cardiff University, exploring her research into the role that cosmic dust plays in both hiding and revealing many of the cosmos' secrets; amateur astronomer Moelwyn Thomas, who will consider how astrophotography in the home has changed over the past 40 years; and artist Thomas Goddard, who will delve into the legend of the Beast of Bala.
In addition, Daryl Green from St Andrews University discusses Nasmyth and Carpenter's extraordinary book, The Moon Considered as a Planet, a World, and a Satellite, that brought together two wonders of the 19th century industrial imagination: astronomy and photography.
Bedwyr says the setting, in a former miners' institute, is very important.
Miners' institutes and workmen's halls were once the focus of social, educational and cultural activity in the most industrial areas of Wales.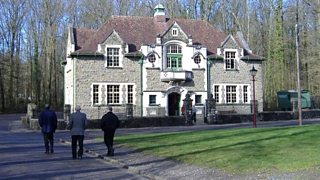 Oakdale Workmen's Institute at St Fagans National History Museum
Image
©
Roger Cornfoot
and licensed for reuse under this
Creative Commons Licence
He said: "There used to be such a Welsh pride in knowledge and in learning things and discussing them. It used to be very important to be seen as wise and clever and I think we've lost that somehow."
The building at St Fagans also features a terrazzo floor, something which is key to Bedwyr's Venice project and which he describes as a "giant flapjack" of different materials.
He said: "In the foyer of the institute I will be showing an exhibition about terrazzo and the building I will exhibit in Venice has the same sort of flooring.
"At the convention I will be making the comparison between staring at the stars and staring at a microcosm because if you are upstairs looking down, you can imagine the floor is a galaxy."
Although he cannot reveal too much about his Venice project, he said preparations are going well and it will use a variety of media.
"I was really excited to be chosen and am looking forward to it."
Bedwyr is known for his funny and poetic live performances and installations which have dealt with themes such as Welshness, otherness and difference.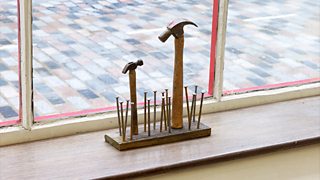 Bedwyr Williams' The Teacher, 2012. Photo courtesy of the artist and Ceri Hand Gallery
His exhibition in Venice runs from 1 June to 24 November 2013 and will be shown in the Ludoteca, midway between the critical exhibition sites for the Biennale of the Giardini and the Arsenale. This is the second time Wales has shown at the Ludoteca.
The Biennale is an important platform for visual art from Wales, giving it international exposure and resulting in exhibition tours and spin-off projects back home after the Venice event has finished.
For more information on Bedwyr Williams visit bedwyrwilliams.com or see some of the work he has shown at the Ceri Hand Gallery in London.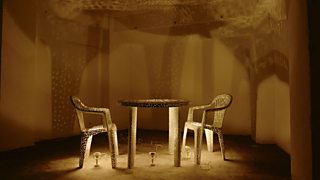 Bedwyr Williams' artwork Strafed, 2012. Photo courtesy of the artist and Ceri Hand Gallery
The convention takes place on 15 March from 11am-5pm. It is free admission but all spaces are now fully booked. If you would like to go onto the reserve list, download and complete the booking form on the Oriel Davies website.
The daytime convention will be followed by a night of comedy from 8pm at Porter's in Cardiff. Admission is free but all spaces are now fully booked, although again it is possible to go onto the reserve list.