Shani Rhys James on her 60th birthday and two new exhibitions
Her bold and chaotic paintings have made her one of the most remarkable and successful artists of her generation, and as the eminent Welsh painter Shani Rhys James turns 60, she admits there is no sign of her slowing down.
Shani celebrated the landmark birthday on 2 May with a party at the official opening of her new show in London, the Rivalry of Flowers, which comes to Aberystwyth Arts Centre in November.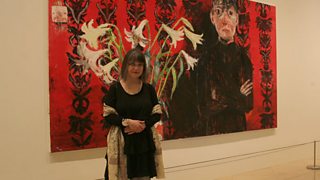 Shani Rhys James at the Kings Place Gallery in London
Meanwhile at the Martin Tinney Gallery in Cardiff, an exhibition of 30 of her new paintings has just opened and will run until June.
Speaking from her home of 30 years at Llangadfan, near Welshpool, Shani told me that she feels her vast body of expressionist oil works has not yet scratched the surface of all the things that spark her interest.
So in 2016, after she has fulfilled all her work commitments until then, she and her sculptor husband Stephen West will be touring her native Australia in a combi van, so she can reconnect with the landscapes of her birthplace.
She recalls: "I moved to the UK when I was nine and while I love the Welsh landscape and it has been my home and meditative backdrop for 30 years, the hiraeth of Wales is not my hiraeth.
"There's so much I still want to do with my art, and as I haven't yet explored a personal landscape I really do feel a desire to go back to my roots and find a connection."
Green Chrysanthemum. Image © Shani Rhys James/courtesy of Martin Tinney Gallery
Shani spent her early years living in a modest former gold miner's house in the Australian bush with her actress mother and stepfather.
But in 1962, she and her mother, who wanted to break into the London theatre scene, moved to the UK with just two suitcases in what was to be the worst winter for many years – the infamous Big Freeze.
Having never seen snow or felt so bitterly cold before, and watching as she and her mother were turned away without explanation from the accommodation that they had previously arranged, the tough welcome they had to the country and the six months they endured living in a bedsit left a lasting impression on Shani.
It is this overwhelming sense of hostility and rejection as she and her mother sought to make a home for themselves that Shani recalls with several of the paintings – entitled Bedsit I, Bedsit II and Bedsit III - featured in the Martin Tinney exhibition, where lurid floral wallpaper is a recurring feature.
She recalls: "I remember vividly this dreadful black and red flock wallpaper in the bedsit which was such an alien thing after living in my plain white walled house in the Oz bush.
"It was meant to be luxurious but it was so grimy and overpowering.
"Maybe I am so fascinated with it as I get older as I am reconnecting with London and that whole transition we had to make.
"We were only meant to come for a year but we sold our return tickets and travelled around Europe. When we finally found a nicer place to live, I cut myself off from the experience."
The pieces she has included in Rivalry of Flowers also feature bold floral backdrops which act as a metaphor for how women are often perceived by society.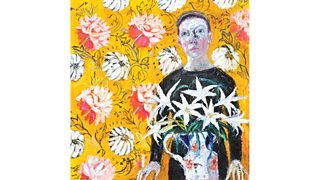 Shani Rhys James' Yellow Wallpaper I. Image © the artist/courtesy of Martin Tinney Gallery
Shani says: "The work in this exhibition explores how there is something dark and wild and crazy about flowers, yet in wallpaper designs they are controlled in a pattern and prettified.
"In our culture women are also prettified – she is part of the floral background, part of the furniture in a way. She has become just another decorative interior thing.
"There are also lots of paintings of flowers in vases, something I have all over my house because I love wild flowers. I think they symbolise a sense of women's sensuality, the way they wilt and drip.
"I also see them as a useful metaphor as they can be arranged into designs, just as the flowers in the wallpaper are designed and controlled and much like women style themselves with high heels and, in the past, corsets.
"It's symbolic of the way we impose an aesthetic on things, including ourselves - we are at times part of the wallpaper but we also view ourselves as part of the interior with a loaded necessity to look right at all times."
Ornate furnishings such as chandeliers and claw feet baths also feature heavily as Shani explores her own obsession with collecting objects, which she relates to the sense of rootlessness she felt on arriving in the UK.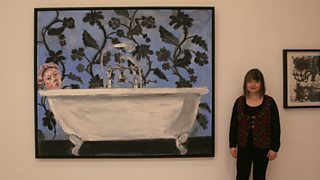 Shani Rhys James stands next to her work Shower Cap
She said: "I have always collected things, my mother is the same, and I put it down to coming here with so little. The paintings capture the idea of a woman obsessed with the interior of the house - kitchens that have to be immaculate and wallpaper that is over-florid.
"The world of interiors is also reflected by prestigious chandeliers which dangle rather menacingly above the woman when she is in the bath. There is also a sense that the flowers in vases clash with the flowers in the wallpapers.
"The Rivalry of Flowers also reflects a sort of rivalry between artists and the rivalry you experience in everything as a woman, rivalry between the flowers and the wallpaper, rivalry between an actress mother and her artist daughter."
Shani's next project, which will also be shown at the Aberystwyth Arts Centre at a later date, will feature an interior three dimensional space, with wallpaper all over the ceiling and the walls. She has asked seven poets, including National Poet of Wales Gillian Clarke, Menna Elfyn and Jasmine Donahaye, to write poems in response to the piece. As they recite their verse, their mouths will be filmed speaking, to also feature as part of the exhibit.
Shani Rhys James has won many prestigious awards for painting, including the 2003 Jerwood Painting Prize, the Gold medal at the 1992 National Eisteddfod and was awarded an MBE for services to Welsh art in 2006.
Her new paintings on a large scale will be shown at Kings Place Gallery, London until 14 June 2013, before touring to University Gallery, Northumbria University from 12 July – 23 August and Aberystwyth Arts Centre from 6 November 2013 to 11 January 2014.
The exhibition at the Martin Tinney Gallery in Cardiff runs until 8 June 2013.
The exhibitions are accompanied by a new hard-back book, also called The Rivalry of Flowers. For more information visit artwales.com/gallery-mtg-en.php.