Milking it …with Gareth Wyn Jones
It's one of the hottest days of the year, and I can feel a trickle of sweat below my backpack. The industrial-sized fan hanging on the ceiling takes a slight edge off the heat, and if I stand in the right place I might be caught in a cloud of cool spritz as farmers nearby wash down their prime stock animals.
I'm in the cowshed at the Royal Welsh Show where I'm surrounded by some of the best pedigree dairy cows in the country. Families with heavily loaded prams, and grandparents clutching on to chubby hands negotiate their way around the odd cow pat. They marvel, take photos and stroke moist pink noses, pointing to 'where the milk comes from'.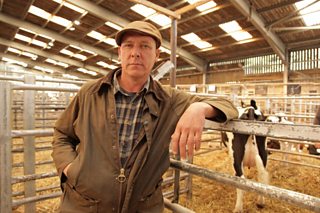 It's approaching the end of the day, and the cows are fed, cleaned and watered and are waist deep in bright clean straw, chewing their cud - a picture of contentment.
But that's not how I'd sum up the general mood among farmers and their families in the shed. This may well be the climax of the farming year and the annual celebration of all that's good and great in Welsh farming, but the mood here is far from being content.
I'm with hill farmer Gareth Wyn Jones shooting a new TV series on the crisis in the Welsh dairy industry and this is our first day of filming.
"There's got to be something wrong, when milk is cheaper than water….' says one West Wales dairy farmer. "A cow's got to drink water to produce milk,' he says, bewildered.
It really didn't make sense. And the more farmers Gareth chatted to, the less sense it made and the darker the stories became. Farmers losing money every day, mounting debts and families going to extreme lengths to save the family farm.
Would Gareth Wyn Jones, a sheep farmer, ever be able to get to the root of the problem? Why is milk, a staple of the British diet now a global commodity? Why do some farmers get a fair price for their milk while others don't, and why are supermarkets using cheap milk as a way to get customers in to their stores?
Over the following weeks, Luke the director on camera and I followed Gareth on his mission to get some answers. There was not a single day that we found it easy to get up at 5am for the milking shift, and we'll be forever in awe of all dairy farmers who do just that - every single day!
Some supermarkets didn't want to answer Gareth's questions, but sadly, some desperate farmers had nothing more to lose by being open about their circumstances. Gareth also meets the pioneers - those farmers who've taken risks and gone to great lengths to take back control of their product, cutting out the middle man and selling milk and its produce directly to the customers.
Since we finished filming the series, we've seen a steady rise in the global price of milk but many farmers still fear another dip in what seems to be an increasingly volatile market place. For those of us who pour milk on our cereals and pop it in our tea, this series takes us to the heart of the dairy industry in Wales and closer to the farmers who produce it. Without them, we might have to negotiate more than a few cow pats to get our daily pint.
From Monday, February 6 at 8.30pm on BBC One Wales