Well it's certainly starting to look and feel a lot more like autumn.
The main feature of the weather at the moment is the wind especially along coastal areas.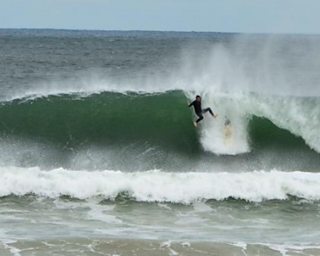 Surfer falling off a large wave
We had gusts of up to 69mph yesterday across Aberdaron and more strong winds are forecast today.
Gales or severe gales possible on exposed areas along the south and west coast along with big tides.
Combine that all together there is a risk of coastal flooding so fingers crossed for minimum or no damage at all.
An area of low pressure is moving in from the South West and with it comes very strong winds which we are likely to see this afternoon and into this evening.
Once the low passes through, the winds should ease a little overnight.
Apart from that, it is essentially a day of sunshine and showers with sme of the showers being heavy.
On Thursday we'll see fewer showers with more sunshine and lighter winds.
Friday and Saturday look good too. Make the most of it as we have wet and windy weather pushing up from the south on Sunday.
There early indications of the weather getting a little bit warmer and brighter next week.
We could see the temperatures creeping back up to 15/16C but it won't last for very long.
I am loving the variety. Enjoy!