Behind the scenes of Iolo's Welsh Sea
Iolo's Welsh Sea producer John Gwyn takes us behind the scenes when the team filmed sharks for the last episode in the series.

The Welsh sea is a fascinating hidden landscape full of extraordinary wildlife that most of us will never see first-hand. Most of us rarely experience a view of the Welsh coastline from the sea or have any idea of the activities or history that exists along our shores. Sharing this big secret has been a rewarding challenge.
Shooting for the series began in July 2013. With such calm waters during the first week of filming all our worries about getting good steady shots of wildlife, landscape and Iolo on a boat disappeared. The sea's surface was like glass. We even had to abandon a surfing sequence off Worm's head as there was no surf. We had to replace it with paddle boarding. Seals, dolphins and porpoise were all out in force and seemingly enjoying the calm conditions. This is going to be easy, we thought.
But of course, we were dealing with the Welsh climate which largely owes its nature to the very subject of our series - the sea. We had decided to film all our underwater sequences during September and October. Generally the sea can be clearer and warmer during late summer/early autumn, but we were about to get the first taste of the stormy winter of 2013/14. We had to abandon many of our underwater sequences because the sea was too turbulent. You could hardly see further than a metre underwater. We could only go to locations which were either sheltered from big swells or were more rocky than sandy. The sea is also generally clearer further out and in deeper water.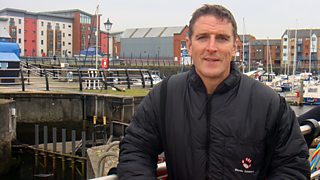 Iolo Williams at Swansea Marina
We needed sharks for the series. We knew there were sharks in Welsh waters, sea fishermen regularly catch them. It was a 6.45am start for the crew and all our fingers and toes were crossed that the weather would be on our side. We headed from our hotel to the little harbour of Dale in South Pembrokeshire where we were meeting skipper Andy Truelove. The intention was to join Andy and some other local people who are currently working on a shark tagging project to travel about 25 miles off the south Wales coast into the Celtic deep.
The harbour was calm and everyone was in good spirits because if all went to plan - catching, tagging and diving with blue sharks in Welsh waters – today would definitely be a highlight of the series.
But the dive team doesn't travel light and before we could set off we had a huge pile of diving and filming kit to shift from the sea wall to the boat. Half an hour later we set off slowly from the jetty and into Milford Haven waterway. But soon we were soon scrambling around the boat when we saw a pod of three Risso's dolphins. We quickly got some shots of the dolphins whilst Iolo got into position so that he could do a piece to camera with the dolphins in the background. They started to breach, doing small leaps out of the water and crashing down again, a behaviour not very often seen this close to shore as they prefer deeper waters. Iolo, still clutching his breakfast and full of excitement, got straight into his piece to camera. Within half an hour of leaving the jetty we already had an unexpected and lovely little sequence to add to the day's filming.
Once you travel past St Ann's head this is when the true nature of the sea really reveals itself; no longer in the shelter of the bay you get the full force of the wind and waves coming from the Atlantic. We had several hours of being bumped and rolled around, with Wales' coastline becoming more and more distant until we arrived at a spot with no land in sight and were told this was the best place to start fishing for sharks.
Greg Laycock is a local fisherman whose task it is to catch the sharks. He began to set up his rods around the boat. We did our best to start setting up all our kit while the boat rocked and rolled on the waves and water gushed over the deck. Poor Iolo, who has never been sea sick in his life, was ill for the first time at sea. We were all taken by surprise for the second time when Greg caught a shark within 10 minutes and we filmed as he let Iolo take over the rod to slowly reel the shark in.
Once on board, Lloyd Jones who leads the tagging part of the project with the help of Andy and Greg, began taking the shark's measurements. We decided to try and get Iolo in the water so that he could wait for another shark to come to the boat and could get a better understanding of how they moved in the water. Iolo, joined by underwater cameraman Gavin Newman and local safety diver Ceri Jones, waited patiently about three meters underwater next to the boat. They were holding on to a guide rope that had been dropped to stop them drifting off out to sea on the current.
It took a while, but Iolo did get a glimpse of a blue shark swimming in the gloom of the deep sea water. But it was a third surprise that really topped the whole day off and was a first for Iolo. While waiting in the water for the sharks to swim past we had obviously caught the attention of a passing pod of common dolphins.  All in all, it was probably one of the best days filming in Wales we had ever had despite the rolling waves and long hours at sea. To top it off we were accompanied by jumping dolphins on and off all the way back to the Pembrokeshire coast.
The final episode of Iolo's Welsh Sea is on Sunday 9 March, BBC One Wales at 5pm. You can catch up on iPlayer.