Wales isn't a 'principality' - sorry!
Last night's Commonwealth Games opening ceremony in Glasgow was a glorious rousing spectacle of Scottish sight and sound. A terrific riot of musical colour and visual flourishes.
A 300-tonne high-definition digital screen is not a piece of technology to be toyed with, after all!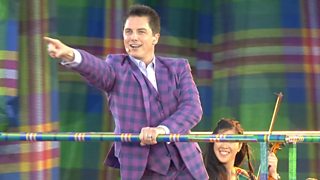 John Barrowman at the 2014 Commonwealth Games opening ceremony in Glasgow
I have to say that the opening ceremony made me horribly envious – both of John Barrowman's ability to mimic the perfect Clydeside brogue, and of the fact that Wales has yet to host the Games in the modern era. We have Tom and Shirley, for goodness' sake! Combine those star turns with a bit of Bryn and Bonnie (we're all on first name terms here) and what a night that would be!
Somewhat unfortunately, however, the opening ceremony took a slightly sour turn on social media when, on introducing Team Wales to Celtic Park, BBC Sport commentator Hazel Irvine erroneously dropped the 'P-bomb'!
For clarification's sake, a BBC spokeswoman said: "It was a genuine error and no offence was intended."
Let's just reiterate in case Twitter wasn't clear enough last night – Wales is strictly not a "principality".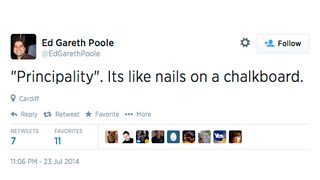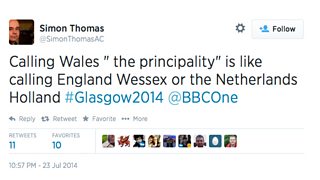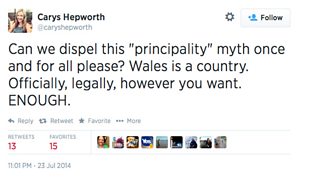 Wales was a principality, once upon a time. But that was in 1542. 472 years ago… 472 years.
Wales is a country. A nation. We have our own laws. We have a Government, a legislature.
But what, pray tell, is a "principality"?
The Oxford English Dictionary describes a principality as being: "The territory held or governed by a prince."
Now some may offer the Prince of Wales up as an answer to the issue at hand, but that would be wholly inappropriate, since Charles holds no constitutional responsibility over our homeland. His designation is granted by the Queen, and is an entirely traditional title.
No, Wales is a country (472 years-worth of country-dom, remember!).
In fact, in 2008 the Welsh Government issued a statement on this very issue:
"Wales is not a principality. Although we are joined with England by land, and we are part of Great Britain, Wales is a country in its own right."
So that's that. Now let's get on with supporting Team Wales! C'MON CYMRU!