Weight Clinic – The Next Generation
The weight management clinic at the Aneurin Bevan Hospital, Ebbw Vale is one of the most welcoming places I've filmed. I've spent many hours sitting in a plain corridor; the nurses taking pity on me as I wait - camera in hand - outside the consulting rooms.
It's a very different experience for the clinic's patients on their first visit. Many of them will have languished on a three-year waiting list before getting an appointment. The wait in the corridor will have been nerve-wracking for them.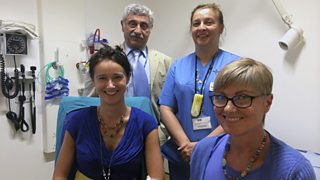 Staff at the weight management clinic at the Aneurin Bevan Hospital, Ebbw Vale
Who in all honesty would look forward to speaking to a stranger about their weight, waist size, eating habits and innermost secrets? When you're used to strangers staring at you because of your size and making remarks at your expense, the last thing you'd look forward to is a doctor telling you some home truths.
Almost every patient I have spoken to says their first consultation with Dr Nadim Haboubi was a jarring experience. The clinic's figurehead doesn't mince his words. He isn't afraid of telling patients the blunt truth about being obese. But he also exudes passion. He and his team want to make a difference and they relentlessly work towards motivating their patients. It's this combination of straight-talking and passion that seems to resonate with many patients.
There's nothing revolutionary about the clinic's prescription – eat sensibly and move more (although they go into it in incredible detail). But at the same time the staff appreciate the complexity of the problem and react to individual needs.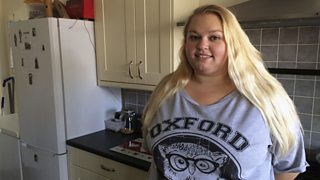 Haike in Weight Clinic -€" The Next Generation
All the patients I have met at Ebbw Vale have their own unique stories, and none more complicated than the youngest on the clinic's books. The life stories of James, Stacey and Haike who all feature in Weight Clinic – The Next Generation could have filled their own programmes.
They have all taken the brave step of talking publicly about their weight problems, despite all having suffered bullying of one type or another during their teenage years, and know from painful experience how people make snap judgements when they see an obese person.
The irony is that the majority of us are now overweight or obese. Our idea of what is an ordinary weight has become completely skewed. I am constantly asked how the individuals I film didn't manage to put the brakes on when they were 20 stone, or 25 stone? Why did they wait until they got to such an alarming size? But all these individuals have successfully dieted in past – some have been slimmers of the month – but as with all yo-yo dieters they've regained the weight.
The reality is there's no quick fix and we can all hijack our ability to make positive changes to our lives. Meanwhile we're constantly surrounded by all kinds of food that will make us gain weight, and every convenience to minimise our physical movement. Few of us have noticed how 'treat' foods have now worked their way into almost every space we inhabit.
Welsh Weight Clinic: The Next Generation is on Thursday 7 August at 10.35pm, BBC One Wales.