Rudeboys and ska remembered in musical's revival
If, like me, you love reggae and ska and would jump at the chance to take a trip back in time to 1980s Cardiff, then make sure you visit the Rockin' Chair Caribbean Restaurant in Riverside, Cardiff over the next 10 days.
The popular eatery and bar is being transformed into a theatrical venue for the revival of ska musical Rude.
The show, based on a script by veteran of the Cardiff reggae scene, Tony Wright, is being put on by theatre company Give It A Name as part of Black History Month, following its sell-out run in December 2010.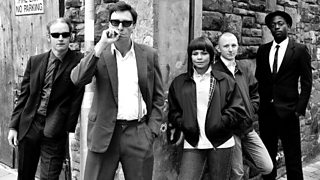 The cast of Rude. Photo: Jorge Lizalde
It features a live band and is based on Wright's own memories of growing up as a mixed race rude boy in Cardiff at a time when, like now, the economy was in turmoil and unemployment was on the rise.
The story focuses on the central character Roddy, a mixed race 47-year-old who is remembering his youth and how music guided him at that time.
But it also has a political context, in the way it examines the era's tensions between British-born black and Asian youth and their immigrant parents.
Director James Williams and producer John Norton decided they had no choice but to revive the production after an extra show, put on to cope with demand last time, sold out in just hours.
And with a film adaptation currently in pre-production with Welsh company Barefoot Rascals, and talks underway to possibly take the show to larger theatrical venues, it is obvious there is something exciting about Rude that captures the attention.
Williams told me: "It's kind of a love song to Cardiff and people seem to have really picked up on that. The response during the first run was so fantastic we had to take the opportunity to do it again.
"People really love ska music and this production is like an intimate gig in a restaurant. Last time we had regulars come in who would never normally go to the theatre but they stood at the bar and watched the show and said 'They're talking about me there'."
With a century of multicultural experience behind them, working class communities of Cardiff may have suffered less racial tension than other cities in the 1960s and 1970s.
But speaking about the show the first time it was staged, Wright acknowledged the role that the Two Tone scene played in bringing black, white and mixed race youth even closer together.
"There was a subculture in Cardiff - rude boys, skinheads and mods," he recalls.
"At the time I was mainly into reggae, a bit of a Rasta, and so were my friends - we were all unemployed.
"There was a gang of white guys and suddenly we heard these new tunes coming out, and they kind of united people.
"Two Tone - says it all. Everyone was just together - it was a good time."
The music featured in Rude encompasses everything from The Specials to 1960s traditional ska and is played by a six piece live band featuring Oliver Wood as singer.
The cast has been slightly changed since last time and includes Shekira Johnson, John Norton and Dean Rehman. Watch a trailer for the production.
Norton, who is also the producer, said: "It's been really nice to revive the show as often you put so much work into just nine or 10 performances and then that work can be lost, whereas this has given us the opportunity to bring it back. I think we've improved it too.
"It's exciting also that we are in pre-production for a film. One of the directors of Barefoot Rascals saw the show twice last time. It struck a chord with him and he said he would really like to see a film version of it."
Rude runs between 24 October and 3 November (excluding 27 and 28 October). Tickets are available from Chapter's Box Office on 029 2030 4400 or chapter.org. Performances start at 8pm at the Rockin' Chair Caribbean Restaurant in Riverside.