Golden palm trees take root in Swansea's High Street
An eye-catching mural is bringing a little colourful cheer to the heart of Swansea city centre through the gloomy winter months.
The large-scale art work, Greater Reality of Elsewhere by artist Sinta Tantra, depicts two golden palm trees on a backdrop of vividly coloured geometric shapes.
It is one of the first commissions for 2013 from Art Across The City, a public art programme delivered by Locws International, an artist-led charity based in Swansea.
Sinta Tantra's Greater Reality Of Elsewhere
Tantra's piece, which is inspired by a quote by American writer Truman Capote, dominates the façade of 229-230 High Street, above the home of Volcano Theatre.
The artist has previously completed other large scale murals and installations in public spaces such as the London Underground, Canary Wharf Bridge, Regent's Bridge in Camden and at the Liverpool Biennial.
Locws International's project manager, Gordon Dalton, said: "It's a real pleasure to work with an artist on such an ambitious, large-scale work in Swansea. The work reinvigorates the High Street with its sheer scale and colour."
The first Art Across The City 2013 event will take place between 28 March and 12 May, with a second event scheduled for later in the year, from 28 September to 11 November.
Another artist involved in the project is Pete Fowler, whose solo exhibition Oceans Of Fantasy continues at the Wales Millennium Centre in Cardiff until 24 February.
Fowler's piece, Portrait Of The Artist As A Young Octopus, draws on the influence of Dylan Thomas and plays on the title of his collection of short stories, Portrait Of The Artist As A Young Dog.
His commission is currently being installed opposite Swansea train station on a former nightclub.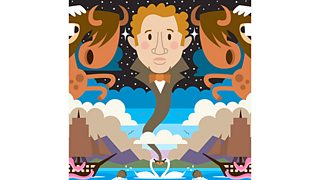 Pete Fowler's Portrait Of The Artist As A Young Octopus
Other artists involved in the project are still under wraps but will be announced nearer the start of the March event.
A number of art works from the project are permanent fixtures in the city, from High Street to Cwmdonkin Park and even on the Kingsway pavement.
Find out more about the project on the Art Across The City website.