Stalking John Barrowman - the musical
It may be an unsettling title for a production, but something about Stalking John Barrowman seems to have captured the public imagination, as each of its premiere shows in Cardiff this week will play to a sell-out audience.
The musical is a collaboration between lyricist and composer Patrick Steed and writers Jude Garner and Naomi Chiffi. It focuses on two fans, Jamie and Julie, who are obsessed with the Doctor Who and Torchwood actor.
As they set up a detective agency to stalk him, hoping for a sighting on the streets of Cardiff, they form a unique bond that sees them spying at the stage door, singing and dancing together.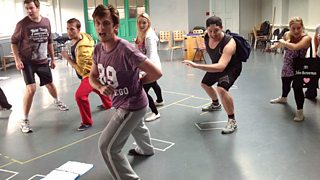 In rehearsal for the musical Stalking John Barrowman. Photo: Chapter Arts Centre
The show opened on Tuesday and received a standing ovation as well as a last minute boost via a recorded message from Barrowman himself.
The star has known about the show from the start and has been tweeting the team, but the cast and crew said it was a big lift to hear directly from him.
Jude said: "It was amazing. We were very nervous on opening night but to hear people laugh at the jokes Naomi and I had written and in all the right places was very gratifying and the message really gave everybody a boost.
"John Barrowman is such a local favourite, he lives in Sully and is really well-known, not only for Torchwood but for his contributions to musical theatre, so when Naomi and I developed the idea, we knew his fan base was a phenomenon.
"Since we've been working on the project, we have encountered some very loyal fans and received tweets from Japan, Germany and France and I believe we have groups from France and Germany coming to see it on Friday."
Patrick had always wanted to write a musical but felt unsure about penning the script himself so approached Jude and Naomi for help two years ago when he was directing a choir that both sang in.
Jude presented him with four plot-lines including the one about John Barrowman and then she and Naomi worked on developing a script for a stage show.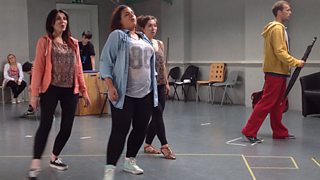 In rehearsal for Stalking John Barrowman. Photo: Chapter Arts Centre
She said: "Patrick is very good at marrying the music with the ideas Naomi and I came up with. We would say 'We really need a song here and it needs to be upbeat or romantic' and he would immediately come back with something that fitted in with what we wanted."
When the trio were pitching the show, they did have interest from theatres in London, but were keen to stage it sooner rather than later, so raised funds to produce it themselves.
Patrick said: "What I've absolutely loved about this project is that whenever we've asked people for their support and their help, they have been amazing.
"I've talked to theatres and stage managers and set designers and asked them questions and they've all pointed me in the right direction, whether it's for funding applications or the right people to speak to, so I feel quite blessed that so many people have been happy to support us.
"We've also been overwhelmed by the support from audiences as the show sold out when we were still busy working on it and we ended up adding two nights to the initial run.
"I feel really proud we've managed to create a new musical, particularly one that is set in Wales.
"It's wonderful that Stalking John Barrowman is having a Welsh premiere because there is so much in the show that is Welsh - including the setting, the humour and the characters."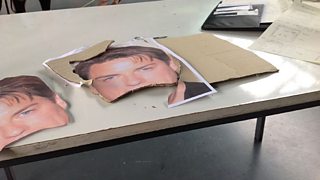 Images of John Barrowman in the rehearsal. Photo: Chapter Arts Centre
The trio hope to take the show on a tour of Wales or perhaps to the Edinburgh Fringe next year and believe it does have an appeal outside of Cardiff.
Patrick added: "The title does have that bums on seats appeal but it also a touching and funny story.
"It plays off all the musicals you have ever seen in your life before so whether you like old school 1940s Broadway, Disney, Songtime or Wicked, you will be happy and there's something in there for everyone.
"Hopefully there are a few tunes you will go away humming."
But for those hoping for a glimpse of Captain Jack Harkness himself, the star will only appear as a cardboard cut-out.
Stalking John Barrowman will be at Chapter Arts Centre, Cardiff, until 31 August. Watch a video clip in which Patrick and Jude talk about the show during a rehearsal workshop.