The Wizard, The Goat and the Man Who Won the War
No, I've not lost my marbles in the title of this blog post. The Wizard, The Goat and the Man Who Won the War is a new play from DJ Britton and Richard Elfyn about the extraordinary life of Welsh politician David Lloyd George.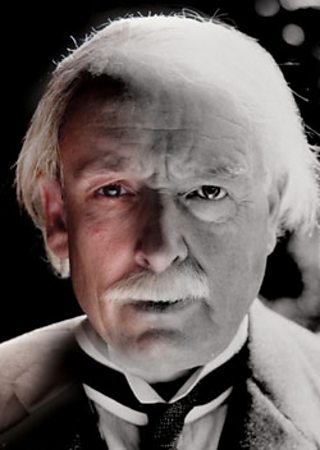 Original photography by James Davies. Archived photo sourced at Llyfrgell Genedlaethol Cymru/The National Library of Wales
Written and directed by Britton, who is a senior lecturer in dramatic writing at Swansea University, the play takes its name from three separate nicknames that were bestowed on Lloyd George by the press during his political career.
The play is a result of a lengthy collaboration between Britton and Bafta Cymru-winning actor Elfyn, which began some years ago at Ty Newydd, Lloyd George's last home in the village of his birth, Llanystumdwy in Gwynedd.
The setting for Britton's fictional drama is Antibes in the south of France at the time of Lloyd George's 50th wedding anniversary.
From there, the politician's imagination wanders back through the length of his life history, and he relishes the thought of further personal and political conquests.
Britton said, "Lloyd George is a dramatist's dream, a mass of contradictions: charismatic, intelligent, foolish, impulsive, clinically decisive and painfully human.
"I wrote this progressively, giving Richard a few pages at a time, and he grew to possess the role as much as it possessed him.
"It may be a one-man play, but don't expect a monologue. Richard becomes all the people in Lloyd George's world and somehow manages to sing and dance his way into the great man's soul."
Elfyn, who was born in Bangor and raised in Pwllheli, has a staggering amount of lines to get through in each performance. In fact, Britton recently divulged an impressive statistic that he discovered in a rehearsal leading up to the Welsh tour. The role of Hamlet, which is often considered a massive part in theatre, typically runs to about 4,000 words but Elfyn has to handle almost twice as much material in his portrayal of Lloyd George!
The Wizard, The Goat and the Man Who Won the War opens at the Taliesin Arts Centre in Swansea on Thursday, 10 November, before embarking on a Wales-wide tour throughout the rest of the month.
Other venues on the Welsh tour include the Borough Theatre Abergavenny, Galeri in Caernarfon, Theatr Harlech, the Torch Theatre in Milford Haven, Theatr Mwldan in Cardigan, Aberystwyth Arts Centre, Ystradgwyn Heritage Centre in Tal-y-Llyn, Clywd Theatr Cymru in Mold, Neuadd Dwyfor in Pwllheli, Theatr Soar in Merthyr and The Riverfront in Newport.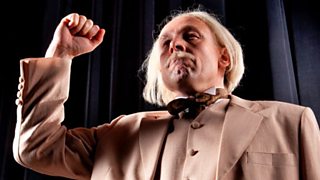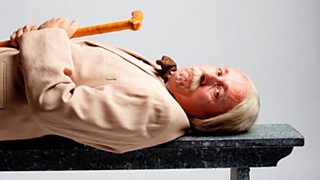 Richard Elfyn as David Lloyd George. Photos: James Davies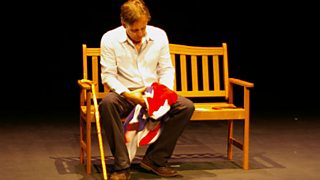 Richard Elfyn during a rehearsal at the Taliesin Arts Centre. Photo: Erich Talbot
Both DJ Britton and Richard Elfyn will speak to Nicola Heywood Thomas on tomorrow's Radio Wales Arts Show, Wednesday 9 November, from 7pm. Richard will also be speaking to Roy on the Roy Noble show today from 2pm on BBC Radio Wales.
You can learn more about Lloyd George's political career on the BBC Wales History website.