Swansea: Return to the Streets: Tracy's story
Tracy Harris, who is from Swansea, has been filming the desperate plight of Swansea's homeless with filmmaker Chris Rushton for Mentorn Cymru. Over the last three years they've created an extraordinary record of the lives of those with nowhere to go. Here's Tracy's account of her experience filming the first episode of the new series Swansea: Return to the Streets.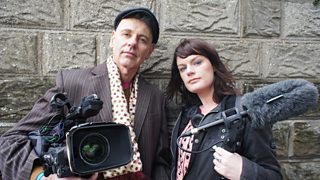 Chris Rushton and Tracy Harris filming Swansea: Return to the Streets.
These films are really important to me because never before have I experienced such honesty and openness on film. It's because of the trust we had built up with homeless people in this area that we felt it was important to go back and continue to delve even deeper. So, the third series for me was about exploring the details of homelessness, some of which have never been seen before. We had kept in touch with most of the people from series one and two, but we wondered how much had changed.
The most surprising change was the amount of people on the streets with mental illnesses. Two of the new characters we met, Barry and Dean, had compelling stories to tell. Barry had just been released from prison. He was sleeping on the street and having to cope with schizophrenia and had teamed up with Dean, a chronic alcoholic, who suffered with amnesia. Meeting them reinforced the need for added support for people with mental illness, people coming out of prison and people with serious addictions.
It was also important to catch up with some of the same faces from the first two series.  We were keen to find out more about those who were trying to tackle their addictions and the experiences, both positive and negative, of those going through rehab. Hearing these experiences from people like Andy and Tim really brought home how challenging this can be.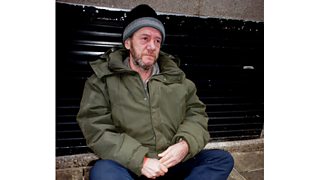 Tim is still living on the streets after three years.
People were now discussing the issue of homelessness far more openly on the street and on the bus and there had been an increase in donations to the homeless charities and more people volunteering to help. It was good to see that a community had come together and that felt such a positive move in the right direction. One of the most reassuring things for me was to be able to make contact again with those charities who, over the course of the three years, had become our friends and supported us every step of the way.
After the first month filming seeing Tim and Andy again, still living on the streets, after three years and struggling to cope was heart-breaking and it was difficult to see a way out for them. The thought of them being on the streets at Christmas haunted me. We continue their stories in the next episodes.
Swansea: Return to the Streets is on Monday 10 February at 22:35, BBC One Wales.