Steve Airey from Whitchurch sent in this cracking photo from Hill End, Gower. You can see Worms Head in the background.

Daisy on Holiday: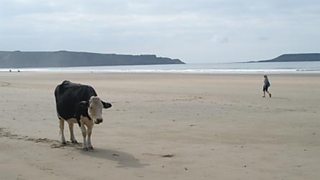 Now, it's not everyday you encounter a cow taking a stroll along a beach, is it?
If you're reading this and thinking to yourself, "I've got a funnier photo than that one" then why not
send it in to us
?
Steve was also pleased to report that my weather predictions were 'spot on' so nice to know I do get it right from time to time! ;)

Thanks for the great photo Steve and I think this one is worthy of a caption competition (for fun - no prizes).

Leave your captions in the comments area below.

Thanks

Derek