Making The Girl in the Diary
The Girl in the Diary is a passion project. It is a story that intrigued my father and me from the start, and one we believed would intrigue others too. After all, it's not everyday you discover your uncle was involved in a Nazi cover-up!
Idris Morgan - my father's uncle - was born and raised in south Wales. In 1933 he travelled to Berlin to complete a 12-month exchange at the Dresdner Bank. He was 27 years old and single. During his year in the German capital, Idris kept a hand-written diary. It was a document that remained private - for his eyes only - until a few years before his death when he carefully typed up its pages and sent a copy to my father.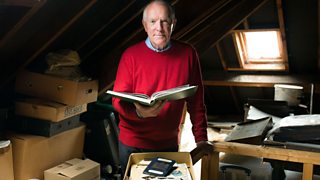 Geraint Talfan Davies in the attic of his Cardiff home with a copy of his uncle Idris Morgan's diary
It was only then that we discovered the story of Gerda Sommer; the story of a young woman found dead in the apartment of Hitler's gatekeeper - Oberleutenant Wilhelm Bruckner.
A story, until now, untold.
My father and I spent a number of years discussing Idris' diary and wondering what to do about it. Should we develop it as a film, or would it make a better documentary? My own background is in drama, but somehow, documentary seemed the better fit - we couldn't hope to answer all the questions posed by the diary, but at the very least we could ask them, and in doing so, perhaps shine a light on a small slice of history.
Making a film like this isn't easy. There were no celebrities to turn to, no comedy hi-jinx to record, and no irreverent voice-overs to keep the narrative ticking along. Just an 80-year-old diary, a not-so-retired journalist, and a determination to do Idris proud.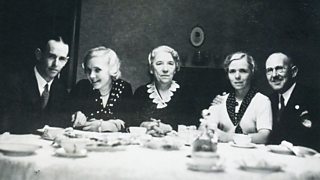 Idris Morgan, Gerda Sommer, Frau Scheffels, Anny Sommer and Fritz Sommer (Gerda's grandmother, mother and father) photographed at the Sommer's Berlin home, c. December 1933
Thanks for the original commission must go to Llion Iwan and his team at S4C whose support for the project was unwavering from the outset. Their commitment - and the commitment of the team at BBC Wales - gave us the opportunity to travel to Berlin to make the film.
Documentary is very different to drama. In drama, most of the day is pre-planned. On a project like Hinterland, the script and shooting schedule largely dictates what is filmed on a given day. These are signed off and agreed a long time in advance of shooting so when it comes to the day of filming there is a shared expectation of the day ahead. With documentaries, it's not quite so clear-cut.
It strikes me that documentary films aren't so much something you make as something you discover - if you're lucky - along the way!
During the filming in Germany we worked with a great cameraman - Hans-Peter Eckardt. We took the decision to work with him partly because he spoke German and would understand what was going on but also because of his previous experiences of documentary film-making.
On our first day of filming,Hans-Peter told me I shouldn't worry about moments we miss, we should think only about the handful of unplanned moments we manage to capture. It was a new way of working for me, but one I thoroughly enjoyed. Having started my career in animation where every moment is storyboarded and pre-planned, I have to say that I thoroughly enjoyed the freedom that documentary film-making allows.
Making the film was a more emotional and challenging experience than I expected, but the people we met along the way, and the story we uncovered, made it all worthwhile. Hopefully, we made old uncle Idris proud too.
The Girl in the Diary is on Tuesday 12 August, 10.35pm on BBC One Wales.