Producer and Director Geoff Evans Looks Back at Ten Years of Coming Home
There aren't many television series that can boast 10 years, but this year Coming Home has just hit that incredible anniversary. Although I wasn't on the team from day one, I've been a part of this production since 2007 and working as producer and director since 2010. It's a job I absolutely love.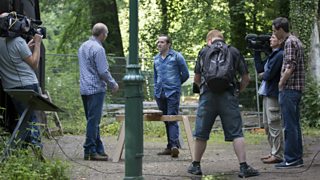 Ben Miller on Coming Home
There have been many great names over the past decade. In fact, far too many for me to list, but after Donny Osmond kicked off the very first Coming Home in 2005, we've had the pleasure of filming with actor Michael Sheen, singer Olivia Newton-John, Cilla Black, Michael York, Katherine Jenkins, Shakin' Stevens, John Rhys-Davies and many, many more. Although they're all very different personalities, they all share one thing in common - a passion to learn about their ancestry.
I think the series has endured these many years, because our viewers are also very curious about their own family history. We certainly get a lot of emails each year from people who have researched their own family tree, or even believe they have a connection with the people in the programmes.
People often ask how we decide which stories to tell, when there are hundreds of names on the trees we present to the celebrity guests. Our genealogist Mike Churchill-Jones has the initial task of producing the tree and looking for the nuggets within. He has a sixth sense for spotting exciting or unusual stories when reading the census returns, and the marriage and death certificates. Mike and I then put our heads together and talk through the stories in detail. There are hundreds of years to cover, so it does take some time. Often the celebrities tell us what they want to learn more about and it's always a great satisfaction to answer a question they've always wanted to get to the bottom of.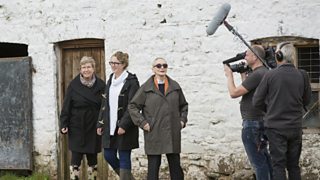 Siân Phillips with her family on set
Michael Sheen's programme has been a highlight for me. Not only because his was the first Coming Home I directed, but because I'm also a huge fan of his work. He took time out of a busy film shoot in Paris to film with us. This is just another example of how we know the celebrity guests we feature are so passionate about learning about their roots. People have travelled from as far as Los Angeles just to be with us, which is very exciting.
The latest series has been another great one for me and the famous faces are as good as ever. One of the biggest privileges of making this series is meeting these people who are so accomplished in their chosen fields.
This year we have legendary actress Siân Phillips, comedian Ben Miller, veteran journalist Jeremy Bowen and sports star Iwan Thomas. Four very different personalities, but they've all taken time out of their massively busy schedules to look into their family history.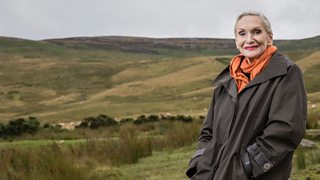 Filming took us all over Wales including St. Clears in Carmarthenshire, Merthyr Tydfil, Bala, Meifod and Neath. One of our most challenging sequences for programme one, was arranging for Siân Phillips to perform a poem at the Eisteddfod in front of 2,500 people. A poem she last read at the Eisteddfod as a 13-year-old girl in 1946. The word "legend" certainly comes to mind. She's an amazing lady.
Coming Home is a culmination of many months of hard work by our small team. Each year we try to make the programmes better and this series is one I'm most proud of.
You can watch Coming Home this Friday at 20:30 on BBC One Wales and catch up on the current series on BBC iPlayer.