If you've been for a walk in the woods lately, you'll no doubt have noticed the amazing waft of wild garlic in the air.
The smell always reminds me of my childhood - running amok in the woods of Pembrokeshire; building dens, climbing trees and having mud fights with my friends, completely unaware of what we were running through.
These days however people are catching on to its culinary uses and you'll often find it on the menu in swanky restaurants where it's also known as 'ramsons'.
Unlike common cultivated garlic, it's the leaves that are eaten rather than the bulbs. The taste is more delicate too and fantastic when lightly sauteed.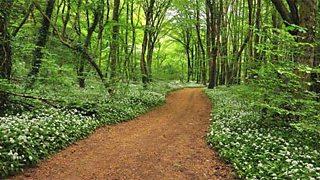 Wild garlic flowering in the woods by Gale.
In the UK, wild garlic has many peculiar names including - 'bear's garlic', 'devil's garlic', 'gypsy's onions' and 'stinking Jenny'.
If you fancy trying some, it's best picked in April or May before the flowers appear but don't worry too much if it's already flowering - you'll just lose some of the flavour.
The shape of the leaves are similar to some inedible plants, so make sure you correctly identify them by crushing some of the leaves in your hand. The tell-tale smell of garlic should ensure you pick the right leaves and not the bluebells!
The leaves can be eaten raw or lightly cooked but give them a good wash first. Wild garlic can be stirred into risottos or omelettes, added to soups and sauces or spread onto toast so give it a go.
Just remember to leave the bulbs in place as you only need a few of the leaves for cooking.
Guardian piece on wild foraging for wild garlic
Some BBC Food recipes featuring wild garlic for you to try.
Gull