Kruger magazine 2004-2010
Mike Williams and Joe Howden were in to talk about launching their own music magazine, Kruger. It was a great idea at the time, and has continued to be so all the way through to its demise today.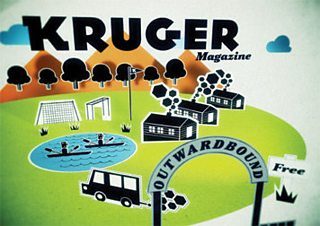 It was halfway between a fanzine and a magazine. Printed matte and with good design at its core, Kruger was a mix of music reviews, interviews with interesting angles (the one I best remember is one with Funeral For A Friend's Matt Davies conducted with him in one toilet cubicle and Kruger in another) and features about music and culture.
It was also FREE. Now, let's just put this in context. Back in the day, let's say the late Seventies, anyone with access to a photocopier could knock together a fanzine and sell it to people standing in queues for gigs. People would fork out 50p to read about Dumpy's Rusty Nuts and an interview with UK Subs. Or something.
Cut to the new millennium and with magazine circulations falling virtually across the board, trying to get music fans to buy into a product that wasn't an established name was brave in the extreme.
So reliant on advertising, Howden, Williams, Michaeljohn Day and their colleagues at Kruger were dependent on businesses and independent record labels and the like to put their faith in the magazine as it went first from a Cardiff-based enterprise then to a national one. That their magazine survived for so long is testament to their sheer hard graft and artistic vision.
Eventually, however, commercial pressures caught up with them. The team wrote on their Kruger Facebook page: "It's with heavy hearts and empty pockets that we announce that Kruger Magazine is dead, and will no longer be produced. The magazine may have been brilliant, but our business model was rubbish, so without any sign of long- or short-term financial improvement, we are unable to continue bearing the burden.
"Kruger as a business is not dead, so keep in touch to find out about our new ideas and projects. In the meantime we'll be re-launching our website as an archive and tribute to everything we achieved with Kruger magazine, so come and say hello.
"We'd like to thank everyone who supported us at the beginning, helped us struggle on to the end, and especially the people who saw the whole thing through with us. It was awesome fun."