After weeks of being whisked off to Russia, losing ourselves in ballroom romances and crying on the battlefield, War and Peace is coming to an end. What will we do without Paul Dano and James Norton brightening up our screen every Sunday night?
We caught up with Andrew Davies, War and Peace's script writer, and made him to tell us more about Pierre, Andrei and those stand out moments. Including just what was going through Natasha's head when she said yes to Anatole…
On that ballroom scene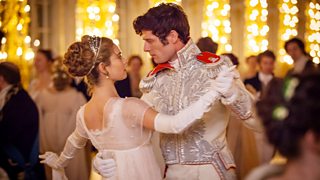 "I wanted the dance scene between Natasha and Andrei to be almost impossibly romantic. Eyes only for each other, a sense of timelessness, as if the dance would go on and on and on.
"Tom Harper, the director, had the idea of including a flash-forward to their courtship and love-making in the snow before returning to the dance, and I thought it worked very well. I wanted the audience to share Natasha's dream of happiness, and I was so pleased that it was received in that way."
On that heart-wrenching moment when Anatole made his move on Natasha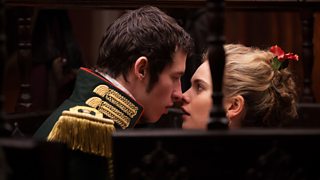 "When I wrote this scene, I was trying to identify with Natasha. She's feeling lonely, she's just been snubbed by Andrei's family. Suddenly here is this guy who says he's crazy about her and is all over her, all touchy feely, so unlike Andrei who is stand-offish and gentlemanly.
"Anatole is a practised seducer, and Natasha is a very sheltered girl who takes people at their face value. So she's temporarily overwhelmed. She makes a terrible mistake and has to bear the consequences.
"I know, it's awful, but we all know how charming bad boys can be."
On everyone's secret crush, Pierre
"Pierre is a character who slowly grows to take over the centre of the story. At the start we like him but don't take him seriously.
"Paul Dano's performance is a wonderful slow burn. I thought of the three characters, Pierre, Natasha and Andrei as really being at the centre of the story."
The scene that made him cry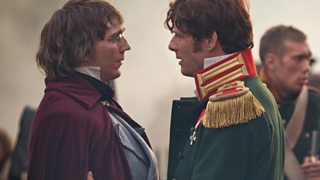 "It's hard to choose my favourite scene, there are lots, but the one that made me cry when I was writing it was the one where Andrei and Pierre are talking before the battle of Borodino. Andrei - who has said he'll never mention Natasha - suddenly bursts out with: 'It was her soul I loved!'"
On the story's ending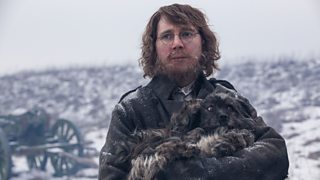 "Episode five is very dark, episode six even darker… but there's light at the end of the tunnel.
"We had to show the horror of war and also the dark side of human interaction. But there's so much forgiveness and redemption in the latter part of the story. Andrei wants to kill Anatole for stealing Natasha, but when he actually sees him so terribly wounded, he just feels their common humanity. And I think we should feel sympathy for Helene as well -she's actually one of my favourite characters!
"There was so much to get into the final episode and the BBC allowed us to extend the length to 80 minutes. I wanted the final scene to have a lovely sense of resolution and tranquillity after all the turbulence and passion, and I hope I achieved that."