Naked scenes, travel mishaps and a tattoo ban. Joe Layton's Tatau lowdown
When I got this role, the first thing my mum said was "Don't get a tattoo!" I don't have any. I thought about getting one when I was out there but the Maori tattoos have such important meaning to them that I'm not sure what mine would say yet. I had Kyle's tattoo applied every morning by the make-up team.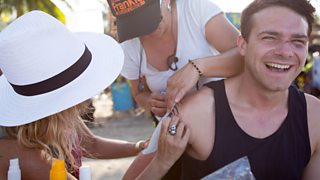 We filmed the naked scenes quite early on, so we were thrown in at the deep end. I tried to make it funny in order to avoid awkwardness, so when we were filming Theo Barklem-Biggs, who plays Budgie, opening the door, I was posing in lots of silly positions off camera!
Theo is rather forgetful, which would definitely cause some mishaps if I were to travel with him in real life. But he would be a great travel companion as he's a great guy and he is a real friend of mine now. It was bound to happen after spending such a long time together on a small island.
I'm not sure I'd want to travel with my character, Kyle, at all, especially when he gets all crazy and intense on the Cook Islands. If I had to travel with one of the boys, I'd rather travel with Budgie, because he's a lot of fun and is a good loyal friend. He also does his best to keep Kyle grounded and tries to talk sense into him.
My most memorable travel story comes from the time I was interrailing with my friends around Europe. We were on a train that was dividing and my friend was in the wrong section. He had to jump from the carriage to the platform and fell flat on his face!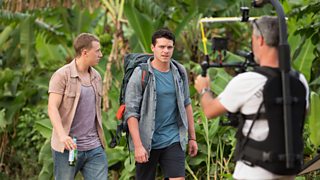 I think Kyle and Budgie's friendship is really relatable. I really like their early scenes which show the banter they have. Budgie is a great friend to Kyle and would never betray him. I wouldn't trust many of the others to be honest!