Think of the worst stag do imaginable. Well, it would pale in comparison to the weekend timid teacher Ian Telford has to endure in upcoming dark comedy Stag. Taken deer-stalking with his future brother-in-law Johnners and his obnoxious pals, Ian already wants to go home. But when they start being killed off one by one, will he even make it through to Monday?
Writer and creator Jim Field Smith tells us why this age old ritual was the perfect environment for a dark comedy thriller.
Stag weekends are always predictable, rarely truly enjoyable - but it's who you're with, and everyone's mood, that makes or breaks it.
In the case of this show, it's a pretty unconventional weekend of hunting in the beautiful wilderness of Scotland. That in itself could be fairly pleasant. But they all behave so appallingly, so despicably - even when they should be working together to save each other - and that's the defining factor.
For Stag, we wanted to skewer masculinity, and really there's no better (or worse) display of that than on a stag weekend. Particularly when you add the ritualism of the hunting, the bloodsport, the testing of man versus nature.
We made our characters privileged which enabled us to heighten it even further - to set them up as entitled, supercilious, opinionated, unlikeable characters but then pull the rug from beneath them. To break them down to see what they're really made of when it's a case of life or death.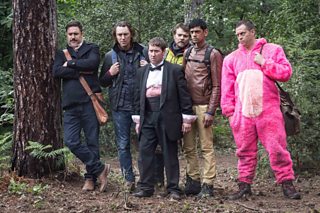 Getting the viewers to sympathise with these obnoxious individuals was a challenge we set ourselves, and something our amazing cast did a great job of bringing to life.
It might not be much, but if you can move the needle on the character just a few millimetres, if we can show that their bullishness is just a bluff, and there's some deeper insecurities and vulnerabilities under there, then we might start to care about them. We've really tried to redeem almost all the characters in some way. We wanted to try to surprise the audience into empathising with characters we had initially encouraged them to despise.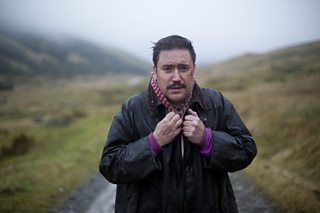 I myself wouldn't go near this particular stag weekend. But Ian (Jim Howick) doesn't have a choice – he's the bride's brother. He's too polite to say no, for one thing. But more importantly he's got to defend his sister's honour, and keep his promise to look out for her fiancé.
I've been in Ian's position on my brother-in-law's stag do. Well, it felt more like an organised riot than a stag party. It was fairly uncontroversial though. We spent the day paintballing in some forest somewhere. Just a bunch of very unfit men in their thirties, running for their lives and squealing like children. Then we ended up in a pub I think.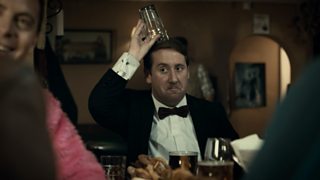 But Stag is a thriller. We took this so seriously we didn't even let the cast know who was behind the killings. It was an absolute nightmare to keep it secret because our cast were all so flipping nosy. And in particular when they figured out that some people knew more than others.
So we had to engage in all sorts of misdirection and subterfuge. Changing names in the scripts, putting fake names on the call sheets, squirrelling people around in blacked-out cars and making sure they didn't cross each other in the hallways. The conspiracy behind the scenes was almost more complicated than the on-screen plot.
Jim Field Smith is a writer, producer and director of Stag.
Stag starts on Saturday, 27 February at 9pm on BBC Two. Each episode will be available to watch in BBC iPlayer for 30 days after broadcast on TV.
Comments made by writers on the BBC TV blog are their own opinions and not necessarily those of the BBC.