Mary Beard's Ultimate Rome: It's not all sunshine
This is the final post Mary has written about her new series, Mary Beard's Ultimate Rome: Empire Without Limit.
Making a documentary about the Roman Empire partly means visits to the sunny climes of the Mediterranean.
Anyone who has watched the Ultimate Rome series will have spotted that it was sometimes very, very hot. Take those sunburnt arms in Timgad and the scarcely disguised sweat in the Roman August (and that was after a whole lot of anti-perspirant wipes, I promise!). But actually, taking the Roman Empire as a whole, some bits are very cold.
The first bit of filming we did was in April 2015, in snow in the north of England. You don't actually see quite how bitter it was when we talk about the remoteness and strangeness of Britain in episode three.
When I was talking about the 'true grit' of the Britons on South Shields beach, it looks pretty blowy to be sure. It doesn't quite capture the mad hail storm that called the close of play to the filming, that seeped into every bit of equipment we had and soaked us to the skin.
We were forced into a seaside hotel to change and dry out and then to go back to the beach to try the whole scene again. In fact, of course, the second go wasn't half as good as the first, so what you see is the sequence before we are hailed off (and I get the giggles).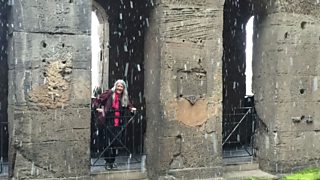 But the final filming for the whole series we did in Trier, for episode four, was just as chilly. There was German snow falling around some of the most impressive Roman remains north of the Alps.
I was trying to focus on the problems of explaining the 'fall' of the Roman Empire (if it ever did fall in quite the way we imagine) but was distracted by increasing frostbite in my hands. It was then that my resourceful producer introduced me to hand warmers, originally made I think for skiers, but usefully transferable to TV presenters.
No doubt most other people in the world know all about these, but I didn't. They are little pocket-size sachets of crystals, which get hotter and hotter the more you feel them and squeeze them with your hands. Without them I would never have been able to talk about the end of Rome in the wet and cold of wintery Trier. The Romans would have been impressed.