Remember Me: I'd only written the first episode when Michael Palin signed up
Remember Me writer Gwyneth Hughes tells us what attracted her to setting a ghostly tale in a Yorkshire seaside town, and why she's always been drawn to mystery.
I live in Yorkshire, so naturally I tend to want to set my stories here. But particularly for Remember Me, the big skies and deserted landscapes seemed very suitable! I love spending time in Scarborough, so once I had the idea that the song Scarborough Fair might play a part in the drama, it was a no-brainer to go to the seaside for filming.
As a viewer, I always get really annoyed if actors' accents are all over the place, which is reason enough to cast northern actors for Remember Me. But it's also great to get people who really understand the landscape and the way of life here, so that the film stands a chance of being really true to itself, and can offer a real sense of place.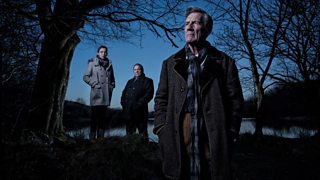 Jodie Comer, Mark Addy and Michael Palin star in this spooky drama
I didn't have anybody in mind to play the central character of Tom Parfitt. But the minute Michael Palin's name came up, I was dancing round the house shouting down the phone: "Yes! Yes!"
Michael signed up to play Tom on the strength of reading the first episode - I hadn't then written the others! So my initial joy was soon followed up by anxiety about what I was going to put in the next two episodes.
I always like to have a very wide range of characters in my stories. Old and young, male and female, English and Asian. And this project is no different. The care home came into the story because I wanted Tom to decide to leave his own home to get away from his memories. It was the natural place to send him, and give him a brief sense of safety.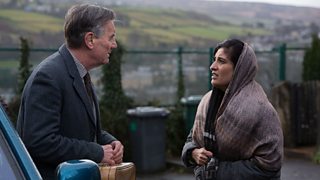 Michael Palin and Mina Anwar film scenes in Yorkshire
I was brought up on the Brothers Grimm, so a good scary story has always held my attention. But in our family life, too, there were scary mysteries. My Dad was from Snowdonia, and he used to drive us all up in his motorbike and sidecar. His brother and sisters had never married, and they all lived together in a mad house full of weird and wonderful artefacts and almost no lighting. Plus none of them spoke English. For my little brother and me, this was a treasure house of spooky experiences and we grew up loving the rollercoaster ride of mild fear!
All ghost stories have to emerge from a sense of loss and loneliness, I think, and all these characters have lost something very precious. Remember Me has a contemporary setting, and the emotional and family relationships I explore come very much from our own world. So I think I've been trying to marry an old-fashioned ghost story with a very contemporary drama of character.
The song Scarborough Fair becomes a supernatural symbol