The House That £100k Built: Challenging ideas
With design, everyone has an opinion.
Clearly, an individual's taste is critical, though, as an architect, it's less about what we 'like' and more about opening up possibilities for people that they hadn't previously been aware of.
Generally, people are so familiar with houses and buildings that many of us think we know exactly what we want. But if we only ever built what we knew, the world would be a very dull place.
Part of the fun of The House That £100k Built has been taking self-builders who are working within a £100k budget to see extraordinary, exemplar projects for inspiration, and, yes, taking them right out of their comfort zones.
Presenter Kieran Long wants to demonstrate that grey timber doesn't have to look like a shed
Many self-builders will have architects working closely with them – but most of the ones on the series did not.
For these people, I acted as a kind of mentor, helping maximise the potential of buildings that might otherwise have been ordinary, or soulless.
At times, yes, I had to use the power of persuasion, and try very hard to change people's minds – because diverging from what you know and think you already like can be pretty scary.
There's a huge amount of trust, and a great responsibility to act wisely on this trust.
A criticism that might be levelled at an architect is that we just hoist our opinions on an unsuspecting client.
But we're trained to solve other people's problems by finding inventive and imaginative solutions. Ideas are our main currency – not just drawing up what someone has asked for.
I'd say that the episode which meant the most to me was episode two – Sumati is a great example of one of the self-builders in the series that rose to the challenge of the new.
Initially, she was so browbeaten by the dilapidation of her existing home that she was not aware that there was any alternative to replacing her house in the most rudimentary way possible and so she'd instructed an architect to draw up the most basic of plans.
The house that she had had designed lacked, as we pointed out, any joy.
Piers and Sumati visit The Hen House on the Isle of Skye for inspiration
By showing her that there were alternative solutions to planning her house layout and raising the ceiling to maximise the sense of space, showing her there were potential savings in going beyond the obvious choices for finishes, she has a house that fills her with delight.
There were many changes that Kieran Long and I would love to have suggested to all of the self-builders on the series, but most already had planning permission when we got involved with them, meaning that we were bound to work within their original consent.
There was an extraordinarily steep learning curve for most of the self-builders, not just in terms of design, but also in terms of construction.
They all had limited building experience yet they all had a sophisticated challenge – that of building an extremely low cost house.
Very ordinary houses in the UK typically cost around £1000 sq m – and a bespoke, one off house usually starts at around £1500 sq m, yet many of our self-builders were aiming for close to £500 sq m, which meant being ingenious on so many levels.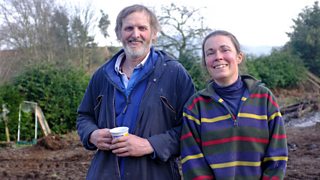 Tony and Ruth want to build a 200 sq m house with a 100 sq m basement on their £99,000 budget
They were all pushing boundaries - very brave indeed!
My main piece of advice is to engage a really good architect early on, even if they don't supervise the build.
They will be able to negotiate planning permission (all being well!), and should be able to work with a self-builder's budget and knowledge, and design appropriately.
It is essential to budget. Rather than beginning with a pot of money and spending without a plan, do prepare a cost plan that allocates sums of money for each aspect of the build, and stick to it rigorously.
There's something that we call 'creeping enhancement' - which is the tendency to keep embellishing or enhancing a project once it is underway.
Avoid creeping enhancement at all costs, otherwise you will shoot over budget.
Finally – building a house is a little like having a baby. It is incredibly painful and angst ridden at the time, but pretty soon you forget the pain of childbirth and enjoy your beautiful creation!
Good luck!
Piers Taylor is an architect and alongside Kieran Long presents The House That £100k Built.
The House That £100k Built continues on Wednesday, 2 October at 8pm on BBC Two and BBC Two HD. For further programme times please see the episode guide.
Comments made by writers on the BBC TV blog are their own opinions and not necessarily those of the BBC.