Charity founder Kris Hallenga plays herself in The C Word. The BBC One drama is adapted from the book of the same name, written by Kris' friend the cancer blogger Lisa Lynch.
I started reading Lisa Lynch's blog not long after I was diagnosed with breast cancer myself. I had come across so many blogs, and to be honest, I wasn't a big fan of reading other people's breast cancer stories. But Lisa's was special: it spoke to me like no other blog did. Her words were so real, raw but also so laugh out loud funny in parts. I fell for her every word pretty much instantly.
She wasn't one to spout affirmations about how you should live your life and she never claimed to have the answers. She gave people a very honest and open account on how to navigate it like no one else ever has or ever could. It is no wonder so many women read her book just after their own diagnosis and get a sense of 'Yes, I can bloody well do this'.
Sheridan Smith plays Lisa in the BBC One adaptation of her book
When we first met in person it was as if I already knew her so well, like we'd been friends for years. She overwhelmed me with warmth, modesty and awesomeness. She would probably hate that I am writing all those words, but it's all true - just ask anyone who has ever met her!
Being involved in this film was important to me on so many levels. Of course I was absolutely pooing my pants about being filmed, especially alongside one of my idols, Sheridan Smith. But it was an honour to have been asked and I know how important this film was to Lisa. We spoke about her meetings with the BBC long before she died, and how she longed for her book to be brought to life. I was so SO incredibly happy when I found out it was going ahead.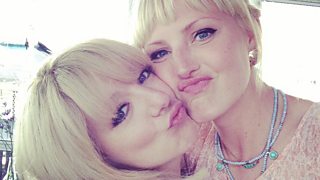 Sheridan (left) and Kris on set: They had both been real-life friends of Lisa's
As for my scenes, here is the thing. That time in Brighton never actually happened. Lisa, Ellie, Fran and I were four girls in the same boat - we got in contact with each other via Lisa's blog, and all had the same type of breast cancer. We swapped notes about lows and highs of our cancer stories together, but mainly online. The four of us never met up together - it's trickier than you think when our lives are dictated by hospital visits.
Ellie passed away quite suddenly, at which point I wrote to Fran and Lisa to say we should head to Brighton to toast to her on the beach. I had even written to Lisa's husband, Pete, to check whether he thought it would be a good idea, me picking up his wife, throwing her wheelchair in my van, and just going to the beach for a day. He thought it was the best idea.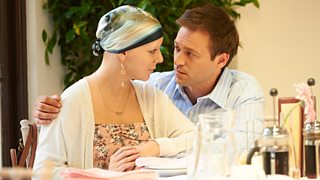 Sheridan says she wanted to tell the story for Lisa's husband, Pete (Paul Nicholls)
That prompted Lisa to write a blog post about it, which then formed the ending to the film. Then Fran got poorly and we never managed to rearrange our Brighton date. You can guess what happened next. I am now left without the three of them.
To actually create a day that was supposed to happen, but never did, was without a doubt the most surreal moment of my life and one I will never, ever, forget. We filmed that scene as if I was with my three friends. We laughed, we downed whiskey and I actually forgot we were being filmed. My hope is that Lisa, Fran and Ellie were having a right ol' knees up together somewhere too.