The Challenger: Researching the space shuttle disaster
On 28 January 1986, millions of TV viewers gasped in horror as an explosion destroyed the space shuttle Challenger.
The fireball that engulfed the spacecraft, just 73 seconds after launch, destroyed the lives of seven astronauts, among them teacher Christa McAuliffe.
The immediate demand for answers triggered a soul-searching process that ruined careers, rocked Nasa to its core and ultimately discovered a clear-cut flaw that some had known about before Challenger had even lifted off.
The launch of Challenger: An unforgettable moment in American history
The painstaking journey of one man who, ignoring terminal cancer, searched for the answers that a shocked nation was waiting for, is explored in The Challenger, an ambitious new factual drama to be shown on BBC Two.
The real-life Challenger investigation involved an impressive array of experts. But since many of them were associated with powerful agencies (such as Nasa or the Air Force), a strong independent voice was needed.
This role went to maverick Nobel-winning physicist Dr Richard Feynman, (played superbly by William Hurt in the drama), who reluctantly agreed to swap the relaxed world of California academia for the furore of Washington politics.
As the film's researcher, I wanted to know Feynman's story. How did he accomplish his task, how did he cut through Washington's red tape and intrigue, and why did he take part at all?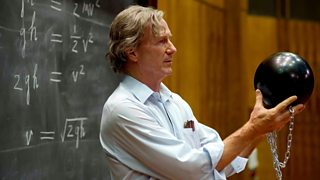 Dr Richard Feynman was an eminent professor at the California Institute of Technology
Over two years, and working closely with executive producer Mark Hedgecoe and writer Kate Gartside, I built relationships with Feynman's family, (the man himself died in 1988) and with those directly involved in the investigation, especially Air Force general Don Kutyna and whistle-blower Allan McDonald.
As trust developed, the phone calls grew longer and the number of questions increased. But as is always the way, it was only when I was able to spend a few days in the States and meet everyone face-to-face that I could properly get to know people.
Integrity and a commitment to accuracy are critical, and it's hard to persuade someone of this if you're not looking them in the eye.
Only once you've done this can you ask the hard questions that will unearth the emotions and turning points that Mark and Kate would need when squeezing a story that unfolded over months into a 90-minute film.
I suppose this is the essence of the job, it's certainly one of the things I enjoy the most.
'I have every intention of finding out what went wrong'
Feynman's books, and the transcripts from the investigation, only go so far. If you want to understand how someone stands up in front of their colleagues and says "These people were warned about the dangers but they launched the spacecraft anyway" then you have to spend a little time in their home.
In Allan McDonald's mountainside house in Utah, I joined him, his wife and a friend for lunch. We talked about kids, skiing, the weather. We left the difficult stuff for later.
It's good to take things slowly, build trust, wait for the story. Eventually we left the house, and during a sightseeing drive through the Rockies, Allan – picking his words carefully – recalled his long-held concerns over the basic design of the shuttle's solid rocket boosters.
Examining the evidence: Richard Feynman and fellow commission members
But it was only when I crossed the mountains and spent a few days in Colorado with General Kutyna that a bigger picture emerged. Kutyna, every inch an elegant and distinguished senior officer, is a Vietnam fighter ace and former test pilot whose most recent job title was no less than Commander, Air Force Space Command.
I told him about McDonald's concerns. "Never mind that," he replied, "that shuttle was covered in ice. You got to ask yourself why did they launch?"
"Why did they launch?" I asked, slightly chastened.
"Damn good question," he replied. "Feynman wanted to know the same thing. I gave him a classified presentation at the Pentagon. Come down to the den and I'll give the same to you."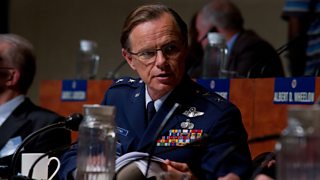 General Kutyna (Bruce Greenwood) at a Presidential Commission press conference
Slightly in awe, I followed him to an office strewn with pictures of himself alongside Thatcher, Reagan and others, and began to take notes on an incredible story. 
This was the first we knew of this briefing, and Kutyna's revelations quickly came to influence the shape of our drama.
When Mark and Kate chose to recreate the briefing in a scene in the film, Kutyna further helped us with broad details about the room (a secure basement lecture theatre) and with general information about Pentagon security, the type of thing we would need when dressing the set.
Step by step, the drama came to explore an intriguing relationship as Kutyna nudges Feynman toward the dark truth underlying the explosion.
It's a story that embroiled McDonald and also astronaut Sally Ride – which we only came to realise following her passing in July last year – as hopefully you'll come to discover for yourself, once you see the film. 
Dan Parry is the researcher on The Challenger.
The Challenger is on BBC Two and BBC HD on Monday, 18 March at 9pm.
BBC Archive Fun To Imagine: Watch the 1983 BBC series featuring the real Dr Richard Feynman.
Comments made by writers on the BBC TV blog are their own opinions and not necessarily those of the BBC.