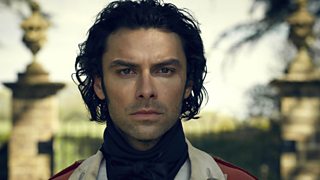 It's no wonder Ross Poldark looks so brooding! Returning to Cornwall after fighting in the American Revolutionary War, he found his father dead, his estate in ruins and his sweetheart Elizabeth engaged to his cousin Francis. Heartbroken but not defeated, he takes on the urchin Demelza as a kitchen maid and finds himself torn between two completely different women.
So we asked Aidan Turner the question Ross must be asking himself all the time...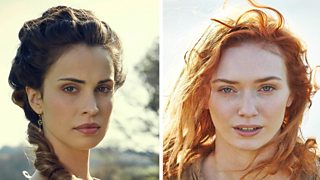 The lady and the urchin, played by Heida Reed and Eleanor Tomlinson
Who are you rooting for, Elizabeth or Demelza?
Aidan Turner: That's an interesting question! I do feel sorry for Elizabeth, I think she gets a hard deal. She makes an interesting point in the first episode when she tells Ross: "I thought you were dead." Everybody did. He was away for three years and at that time if you were away for that long and you didn't write they just assumed you were never going to come back.
Elizabeth, and women at that time, had a very small window to court and find a husband. If they didn't do it in those crucial years when they were debuting, and they were paraded around various ballrooms like chattel by their mothers or whatever, if they didn't take those crucial years to find a husband then that was it.
They were then isolated like the character of Verity in the story and could find it hard to find anyone. At that stage they're sort of annexed from the social events and it would be quite difficult. Elizabeth saw that with Verity and saw that she risked going down that same route. So although Ross is confused and feels betrayed by it and he's really hurt I think I understand that marrying Francis was what she needed to do.
She gets a hard deal for not being faithful or loyal but would you have done it? I wouldn't have. Three years is a long time, especially at that time nowadays you can just send a tweet.
But equally Demelza is the underdog, she's the outsider and the people's hero and she's funny and her growth, her journey... I'm trying to work it out! I don't know, Demelza's character arc is so huge; from the urchin girl... Oh god, that's really tough. I don't know what team I'm on!