This afternoon I've pulled everything off the office walls and emptied my desk after working on Shark for three years. Thinking back to the start of production, I felt very differently than I do now – I was scared of sharks.
Of course I wasn't alone in that, and episode one of the series shows why, focusing on their awesome power and predation. But this week's episode will show you a different side. It shows sharks as vulnerable babies, seductive mates and caring mothers.
I was the assistant producer on the series and dived with sharks all over the world. Over this time I discovered another side to their infamous fearsome image… and learned to love sharks.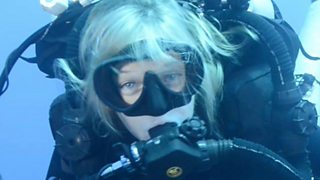 As one of the crew in charge of dive safety, you would think a shark attack was always the top of my risk assessment. In reality, the most dangerous hazards were the cold, dehydration, getting the bends from diving deep, and of course the weather: we had two cyclones and a tsunami when I was on location in the Galapagos and Great Barrier Reef!
Sharks can, of course be dangerous, but by working with world-renowned scientists we learned how to read a shark's body language and stay safe. For instance if a shark arches its back and lowers its fins it's a sign of aggression and it's best to give it some space, or get out!
Although it's quite unnerving when a great white shark holds your gaze for several seconds, I knew I wasn't on their menu. In fact you're more likely to die from a wasp sting, a lightning strike, or my favourite – a vending machine falling on you!
Watch Rachel in the water: This is the clip that makes her cry
When working in wildlife film making you can be so focused on ensuring the camera operator gets the shot that you forget to enjoy the experience. But there was one moment that really took my breath away: I was fortunate enough to swim amongst a group of whale sharks and manta rays off the Yucatan in Mexico.
Each whale shark is the size of a double decker bus and mantas have five-metre long wing spans. When diving down with these huge harmless fish (they eat plankton) I kept having to stop, take a breath and pinch myself to believe I was actually there.
I didn't realise how many sharks I was swimming amongst until I watched the footage back, shot from a helicopter above. I was overwhelmed to see I'd been in the water surrounded by 800 of them, and every time I watch the sequence back it still brings me to tears.
Sharks can be brutal, but they're also mothers trying to find a safe place for their young, passionate lovers, cheeky adolescents and graceful giants. You only need to look beyond the bite!
Rachel Butler is an assistant producer on Shark.
Shark continues on Thursday, 14 May at 9pm on BBC One. Each episode will be available in BBC iPlayer for 30 days after broadcast on TV.
Comments made by writers on the BBC TV blog are their own opinions and not necessarily those of the BBC.